When you're ready to start a construction job or mining project in Colorado, all your essential machinery and heavy equipment need to be waiting for you–ready to go. At Osage Specialized Transport, we understand your urgent deadlines and the value of your equipment. That's why meeting our commitment to you, for safe, on-time equipment hauling, is our #1 priority. 
Based in Colorado, our team takes pride in our state's powerhouse industries. These include aerospace, advanced manufacturing, defense, energy, agriculture, and infrastructure, per the state Office of Economic Development. As a transport business, we take pride in our decades-long role in support of all you do. For dependable transport of industrial equipment within Colorado, or across the nation and Canada, heavy industry relies on Osage
Who is Osage Specialized Transport?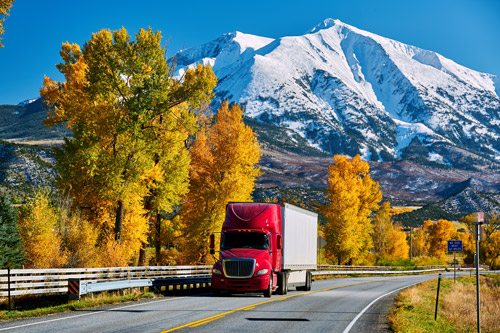 Osage brings a deep level of experience in all aspects of trucking, plus decades of logistics expertise to bear on your project. Headquartered right here in Colorado, we handle single item, short-distance trucking jobs, as well as long-distance hauling of your entire job site. The experienced team at Osage takes pride in helping your business succeed, by doing our job right. 
Our trusted Colorado transport company has evolved since 1995, beginning as an independent carrier and progressing to an agent for major national trucking companies. About 20 years ago, Osage became an agent-organized trucking firm, partnering with larger transport brands that employ owner-operators. Industry experience has helped establish our transportation and logistics company as a leader.
With a combined 75 years in transport, our founders' backgrounds include short- and long-distance hauling, truck driving, and operations management. Today, we use the latest technology for clear, instantaneous communication, routing, and data sharing. Throughout our history, our complete dedication to dependable customer service has never changed.
Osage has the industry-specific experience necessary to move your:
Heavy machinery

Colorado mining equipment

Wind farm turbines
Advanced manufacturing devices

Construction equipment for CO infrastructure
Aerospace components

And more
What Services Do We Excel In?
At Osage, we have transported all types of industrial machinery across the great state of Colorado and beyond. Our major areas of expertise include:
Oversize Loads
Our comfort level with wide loads is legendary. Our team provides safe, expert and on-time hauling of monster-sized machinery that your project may require. Osage partner drivers impress us daily with their ability to anticipate and eliminate Colorado's seasonal hauling challenges, whether navigating the snowy, rural Rockies or congested Denver city traffic.
Our well-trained and experienced oversize load truckers deal equally well with winding, mile-high highways and slippery, snowy rural roads in and around Colorado. Meticulous planning, and the capability to make sound decisions on the fly, guide our truck drivers through awkward weigh stations, and under numerous overpasses, with ease. 
Specialized Transport
You name it, and Osage has the equipment and expertise to haul it anywhere you need it. We leverage the power of solid partner relationships with bigger carriers, providing purpose-built hauling vehicles, ready to carry and transport your load. We may use step decks, stretch flatbeds and/or other heavy-duty road warriors, as necessary, to ensure the prompt and safe arrival of your weighty industrial machinery.
At Osage, we transport every load for your Colorado company with the greatest care, using proper equipment to haul specialized loads, ensuring success. What's more, you can check progress anytime. You'll always reach a real, knowledgeable staff member, providing you a level of control you won't find through a brokerage. You can count on Osage 24/7, so you're never in the dark. 
Transport Logistics & Management
From the moment we sign on to transport your valuable equipment and heavy-duty machinery across, within or through Colorado, it's our baby. We are here to safeguard and deliver your precious cargo as if it were our own. Osage Specialized Transport makes complicated logistics into a smooth ride for your essential equipment.
We never let Colorado's winter weather or challenging terrain get in the way of your trucking job. We keep everything on track and on time with our high-tech transportation management system (TMS). This user-friendly, proprietary system integrates with your systems, so you can easily access status and updates.
Crucial details make Osage Specialized Transport your best Colorado transport option: 
Dedicated dispatch contact:

We assign a logistics manager to your project. This point person monitors the location and schedule of your load during transport.

Easy-access tracking:

Get progress reports on your heavy equipment transport, using customer ID, serial or machine numbers.

Secure connection:

Our data-sharing portal provides secure access to a variety of transport project information, reporting, billing and more.

Load boards:

Our TMS tool helps you check operator scheduling, DOT regulation compliance and more, to ensure productivity, control costs and maintain peace of mind.
Why Choose Osage? 
In heavy equipment hauling, there's no substitute for direct knowledge and customer focus. At Osage, our experience in Colorado trucking and our dedication are evident in all we do. As trusted and proven, end-to-end logistics and transport agents, we're here to ensure you have a terrific experience with our company. That's why the Colorado industry turns to Osage for all types of heavy hauling.
What makes Osage the outstanding Colorado heavy equipment transport solution:
Background.

Through practical experience, we have earned our expertise in transport and logistics. With an eye toward innovation, we are reinventing industrial hauling.

Preparation.

We have the right people, technology, tools and equipment required for streamlined transport of industrial machines to support your business needs.

Partnerships.

Our solid industry connections help us accomplish what others may think impossible. We partner with larger transport organizations to deliver your heavy machinery, where and when you need it.

Flexibility.

We work with the Colorado industry to create economic success. We can change course quickly and customize our transportation services to suit your heavy-duty transport needs.

/li>
Technology.

We're industry innovators, using technology to make heavy equipment transport reliable and safe.

Customer focus. We are here to support your business growth.
Leave your heavy load to us, with perfect confidence. Contact the Colorado transportation leader with national reach, Osage Specialized Transport, at 303-326-0374 today.