Transporting heavy equipment can be a hard task sometimes. Think about the logistics… What about safety? Will your equipment arrive in time? Luckily, you don't have to think about all this if you hire a specialized transport company. Are you looking for an oversized load hauling company with the best transportation logistics? Look no further. Osage Specialized Transport and logistics company has your back.
Founded in 1995
Greatwide Truckload Management Team Member
Top 5 Agent for Greatwide, Greentree Transportation & Midwest
Buchanan Hauling & Rigging Agent
Locate British Columbia Ports of Entry
---
Trucking Company in British Columbia, Canada
Osage Specialized Transport Inc was founded in 1995 and has since become one of the most reputable heavy hauling companies in British Columbia and many other states.
We have locations all over North America. This gives us not only comprehensive coverage but also a competitive advantage in all our operations. Besides that, it gives us access to superior equipment to enable us to serve you in the best way possible.
We have been in the specialized transport industry for years, and we have partnered with different companies and built strong affiliations and reputations, making us your trusted British Columbia Trucking company. We safely transport heavy equipment from coast to coast at reasonable prices.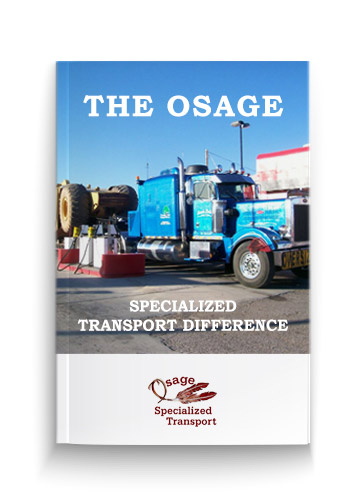 Got Specialized Transportation Needs? We Have Solutions!
Whether hauling an oversize load, specialized construction equipment, or need a one-way freight, Osage has you covered! Download our brochure to discover the difference working with a company that has 40-plus years in the business can offer to you and your business' bottom line!
How Osage Specialized Transport Serves British Columbia
The Osage specialized transportation services in entire British Colombia are dependent on their specialty in transporting oversized loads. This is possible through the superior transport management systems and logistics put in place, as outlined below.
Specialized Transport
We are affiliated with large carriers and are and non-asset-based agents with access to various equipment.
Our specialized operations include company-controlled operations, owner-controlled operations, and equipment specialized in trucking. Unlike brokerage companies, we communicate directly with our hauling drivers, which gives you superior services customized to individual needs.
The specialization encompasses professionalism, promptness, safety, experience, and, most importantly, respect for all parties involved.
Oversize Load
We are your to-go company if you need transportation of heavy and oversize equipment. We make sure your equipment arrives at the set destination safe, intact, and in time. The different industries we serve include construction, farming, mining, manufacturing, and oilfields.
Our services are available across Canada and the United States. We only entrust your heavy equipment hauling from coast to coast our highly trained and experienced drivers. Their experience in making prompt judgments and maneuvering different terrains and harsh weather conditions ensures your equipment arrives safely.
Logistics & Transportation Management
At Osage Specialized Transport, transport management, and logistics are our number one priority. The transport management system (TMS) we use puts us ahead of the whole process, which enables us to track, coordinate and adapt to all the needs for transporting heavy and oversized equipment.
Our full-service Denver, CO-based company leverages the following to ensure we cover all the logistics.
Internal dispatch
We allocate an internal dispatcher and a logistics agent in Denver to every freight we handle. This ensures your equipment is handled correctly, and there's an easy adaptation to any changes in the schedule and any other requirements necessary, like coordinating pickup locations.
Integration
Our user-friendly TMS system gives up-to-date insights regarding the transportation of your freight. It's also linked to the company website using the open-API for easy access, which ensures prompt processing of invoices and loads.
Besides that, we take the safety of all vital records seriously while availing all the information you need.
Tracking ability
Our TMS tracking solution gives you real data, which is updated every minute, on the precise location of your freight. The system is set to track everything through serial numbers, machines, and by each customer. All this allows us to effectively coordinate all shipments, and remain on top of all the logistics for everything we transport.
Load boards
The access we have to various load boards through the TMS system keeps all our drivers on schedule and, at the same time operating in conducive environments. Besides, it ensures full compliance to DOT standards and hence eliminating expensive deadheads and time wastage.
Specialized Transport & Hauling Services in British Columbia
Our specialized and versatile heavy freight transportation and hauling services in British Colombia are incomparable. We highly prioritize our customers and employees and all independent parties, including drivers.
In addition to our state-of-the-art technology to give you the best services, we ensure safety, convenience, and promptness at reasonable prices.
Trucking Areas We Specialize In
Heavy Machinery
Construction equipment
Agriculture machinery
Aerospace components
Industrial manufacturing devices
Excavation Equipment
Industries We Serve
Coal excavation
Food manufacturing
Dairy farmers
Oil & natural gas pipelines
Wind energy
Local agronomy
---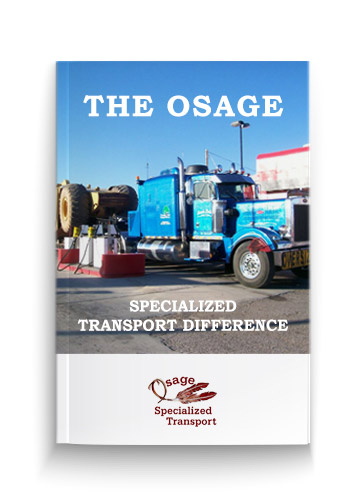 Need Heavy Equipment Hauled? We Have You Covered!
Whether hauling an oversize load, specialized construction equipment, or need a one-way freight, Osage has you covered! Download our brochure to discover the difference working with a company that has 40-plus years in the business can offer to you and your business' bottom line!
More States We Offer Trucking Services In
Reach Out to Osage Specialized Transport Today
You can contact Osage Specialized Transport for all your specialized transportation needs. We have all the transport solutions you need across the U.S and Canada. Our live support contact number (303) 326-0374 is available for 24 hours, and our friendly customer service team is at your service. You can also leave us a message online, and we'll get back to you.