Founded in 1995
Greatwide Truckload Management Team Member
Top 5 Agent for Greatwide, Greentree Transportation & Midwest
Buchanan Hauling & Rigging Agent
Locate Ontario Ports of Entry
---
Trucking Company in Ontario, Canada
Gone are the days when transport of heavy equipment and oversize loads was a tough hustle. Today, all you need is to hire a specialized transport company with a good reputation and wait for the arrival alert. Even better, you can track your load all the way to your desired location.
Osage heavy hauling company was formed in 1995. Initially, the company served as an independent native Sons Transportation carrier. However, the company later decided to become an agent-organized trucking company working In October 2001. In the process, the company reformed the name to suit their future operations better since it was to change from an asset-based company to a non-asset-based agent.
Furthermore, Osage is a company with customers at heart. We strive to get involved from the ground level of all processes. Our drivers have the necessary experience in providing heavy haul and specialized trucking options to significant companies. That's why we are considered among the most reputable Trucking Companies in Ontario.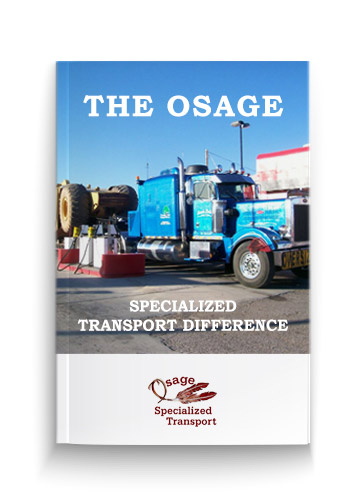 Need Heavy Equipment Hauled? We Have You Covered!
Whether hauling an oversize load, specialized construction equipment, or need a one-way freight, Osage has you covered! Download our brochure to discover the difference working with a company that has 40-plus years in the business can offer to you and your business' bottom line!
How Osage Specialized Transport Serves Ontario
With vast trucking connections, Osage is capable of providing the following services in Ontario:
Specialized Transport
Osage Specialized Transport has vast experience of over four decades in providing specialized transportation services in Ontario. The company is a full-service transportation and logistics agent capable of transporting everything to the job site. We offer 24-hour customer service to ensure reliability, promptness, and exceptional assistance to our valued clients.
Our drivers have the necessary expertise to provide any phase of transportation for heavy equipment and machinery. We have served several industries with these types of transport, including construction, mining, and several oversized loads. Osage Specialized Transport is your convenient, reasonably priced, and versatile hauling and transportation service in Ontario. You can trust us with your important job and be guaranteed safe delivery.
Oversize Load
Most entrepreneurs rely on heavy equipment to run their businesses. That explains why you shouldn't trust them to just anybody without a guarantee for your product safety. After all, moving oversized loads is not the same as hiring a truck to move your home. You need an experienced heavy equipment transport service.
Fortunately, Osage has a unique specialty in wide and oversize load transport, and most importantly, it ensures everything it hauls arrives safely. Our company conforms to necessary laws and safety requirements you needed in carrying heavy and oversized loads.
We also pay attention to other factors like the types of terrain leading to your destination. Therefore, no matter your outsize transportation needs, we have the knowledge and expertise to get it wherever it needs to be on time. Given that we have been in the industry for over four decades means that we are reputable carriers.
Logistics & Transportation Management
We understand that transport servicing is incomplete without coordinating, tracking, and adapting to logistical requirements. But, you don't have to worry. At Osage specialized transport, we provide robust logistical planning capabilities and the necessary oversight you need through our transportation management systems (TMS). Our TMS include:
Internal dispatch: Osage is ready to adapt at the drop of a hat to ensure your freight is handled properly. Regardless of your transport need, we're always on-hand to dispatch accordingly.
Tracking ability: At Osage, our robust TMS solutions enable us to emphasize tracking. As a result, working with us means you can get up-to-the-minute information.
Integration: Through Our user-friendly TMS, it is possible to get instant insights into the whereabouts of your freight transportation in Ontario. Furthermore, we work hard to protect your vital records hence ensuring data security.
Load boards: our TMS also will enable you to keep drivers working on the schedule. Hence no more wasted runs or costly deadheads!
Specialized Transport & Hauling Services in Ontario
For over 40 years, Osage Specialized Transport has dramatically impacted a few industries in Ontario. Here are a few companies that have benefited from our specialized hauling services:
Construction and Mining: Osage has worked with many construction and mining companies to move their wheeled and tracked machinery to various construction sites. We have worked with both construction companies and independent contractors within Ontario. We have continued working with many construction and mining companies.
Pipeline Industry: we specialize in the high- pressure gas equipment for the pipeline industry. Regardless of the size of customer transportation needs, our professional staff has always tried to get the freight to its destination safely. So, Osage will assist you with anything you want to be hauled for a long-distance within Ontario.
Agriculture: Osage transport solution to heavy-agricultural processing. We have been ensuring any heavy machinery gets delivered to its destination safely. We have continued hauling different equipment, including grinding machinery, tractors, and heavy farm engines.
Trucking Areas We Specialize In
Heavy Machinery
Construction equipment
Agriculture machinery
Aerospace components
Industrial manufacturing devices
Excavation Equipment
Industries We Serve
Coal excavation
Food manufacturing
Dairy farmers
Oil & natural gas pipelines
Wind energy
Local agronomy
---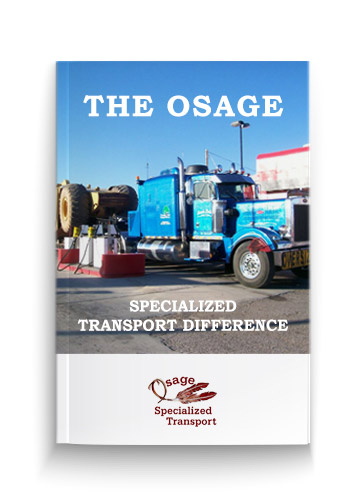 Got Specialized Transportation Needs? We Have Solutions!
Whether hauling an oversize load, specialized construction equipment, or need a one-way freight, Osage has you covered! Download our brochure to discover the difference working with a company that has 40-plus years in the business can offer to you and your business' bottom line!
More States We Offer Trucking Services In
Reach Out to Osage Specialized Trucking Today
Need something hauled a long-distance within Ontario? Don't stress yourself. Osage Specialized Transport is here at your service. Our heavy hauling will leave you satisfied. We strive to provide the best transport and logistical solutions to our customers in the region. Furthermore, we're always prepared to streamline your freight operations. So, if you want to get your oversize load on the road, call us at (303) 326-0374 or leave us a message online today.