Nationwide Trucking Company & Logistics Specialists
Welcome to Osage Specialized Transport, your go-to heavy haul and specialized equipment trucking company. We deliver freight from coast to coast and have headquarters located in Denver, Colorado and McKinney, Texas. We work closely with numerous large carriers, energy sector companies, and heavy equipment-related businesses. We have over 40 years of experience in the industry; allowing us to provide a broader base of varied heavy equipment hauling than any single company has access to.

We are a proud locally owned and operated small business.

We offer a wide range of trucking, flatbed trucking, transportation, hauling and logistical services.

Our employees are helpful, friendly and hardworking.

We have over 40 years of experience and connections with many different carriers.
Transportation Services

Need something hauled a long-distance? With over four decades of experience, vast resources, relationships with several different large carriers and strong versatility, Osage Specialized Transport is the service to trust for specialized transport. As a full service transportation and logistics agent, we can transport everything from flatbeds to an entire job site, and we are committed to providing reliability, promptness and exceptions customer service to each and every one of our valued clients. We have helped hundreds of companies with the hauling and freight transport services they need over the years, and we hope to help you as well.
Osage Specialized Transport provides all phases of transportation for heavy equipment and machinery used in such industries as construction and mining, as well as for all heavy equipment and oversized loads. We can transport throughout the entire continental U.S. and Canada. For your convenience, our live phone support is available 24 hours a day. The next time you are in need of convenient, reasonably priced and versatile hauling and transportation services like step deck and stretch flatbed trailers, we hope you will trust the experienced and friendly team at Osage Specialized Transport with your important job.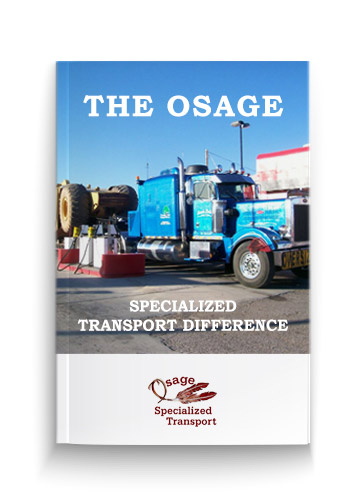 Got Specialized Transportation Needs? We Have Solutions!
Whether hauling an oversize load, specialized construction equipment, or need a one-way freight, Osage has you covered! Download our brochure to discover the difference working with a company that has 40-plus years in the business can offer to you and your business' bottom line!
Driver Resources
Latest Fuel Prices
Current Weather Conditions
Realtime Road Closures
Free WiFi Locations
Emergency Truck Repair Services
More Driver Resources