Seeking a trustworthy nationwide delivery partner for your specialized shipping requirements? Osage Specialized Transport is your premier choice for comprehensive freight hauling. Specializing in heavy and specialty hauling, we offer exceptional logistics transport services, ensuring the secure and efficient movement of your goods across the United States.
Our Legacy in Hauling Services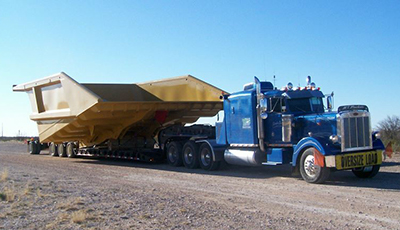 With over 40 years of industry experience, Osage is a respected name in the shipping industry, offering unparalleled trucking and hauling. Our dedication to prompt, safe deliveries and outstanding customer service has cemented our status as one of the leading companies in the country. From transporting large machinery to orchestrating the logistics of entire job sites, our expertise encompasses a wide range of trucking services, ensuring we meet and exceed our clients' diverse needs.
Nationwide Heavy Equipment and Machinery Transport
We expand over all 50 states, reflecting our ability to manage logistics and transportation on a national scale. No equipment is too large or too challenging for us, whether it's transporting heavy-duty trucks, excavators, or other large-scale machinery. We specialize in the transportation of oversized and wide loads, making us a top choice for businesses requiring specialized services. Our commitment to quality and meticulous care in handling every project sets us apart in the realm of freight hauling.
We have a rich history of heavy hauling, particularly for the pipeline industry, focusing on high-pressure gas equipment. Our extensive network includes partnerships with industry giants like Caterpillar, Manitowoc, Terex, Komatsu, Hitachi, and John Deere.
Our capability to haul loads of varying sizes, lengths, widths, heights, and weights showcases our versatility and readiness to meet your specific hauling needs. Our fleet, composed of dedicated owner-operators and a skilled team of equipment transportation professionals, ensures that every load, no matter its specifications, is transported safely and effectively. This level of expertise and resourcefulness makes us a reliable choice for all your heavy requirements.
At Osage, transporting wide and oversized loads is a priority. We recognize the importance of oversized vehicles, like agricultural or mining machinery, in your business operations and the necessity of entrusting your needs to our reliable professionals.
Our longstanding industry presence has allowed us to build a solid, trustworthy network, guaranteeing cost-effective and secure overweight load shipping solutions. Our knowledge of the varying state regulations regarding oversized load shipping is critical, ensuring compliance and safety in every transport. Our team of professionals is adept at navigating these complexities, providing peace of mind and reliability in the transportation of your oversized loads.
Managing services demands precision in tracking, coordination, and adaptability to logistical needs. Osage brings you top-notch transport management through our innovative Transportation Management System (TMS). This system is designed for extensive logistical planning and oversight, addressing everything from timely pickups to adapting to schedule changes and coordinating Less than Truckload (LTL) shipments.
With our TMS, you remain informed about the location of your load at all times, ensuring transparency and reliability. The system integrates seamlessly with your company's systems, facilitating efficient invoice processing and load management.
Osage Specialized Transport is more than a hauling company; we are a strategic ally in specialized shipping. With our deep-rooted experience, comprehensive network, and cutting-edge transport management services, we are equipped to handle your shipping needs with the utmost reliability and efficiency. Trust us to be your partner in hauling, where safety, efficiency, and customer satisfaction are our top priorities.