Construction Equipment & Machinery Transport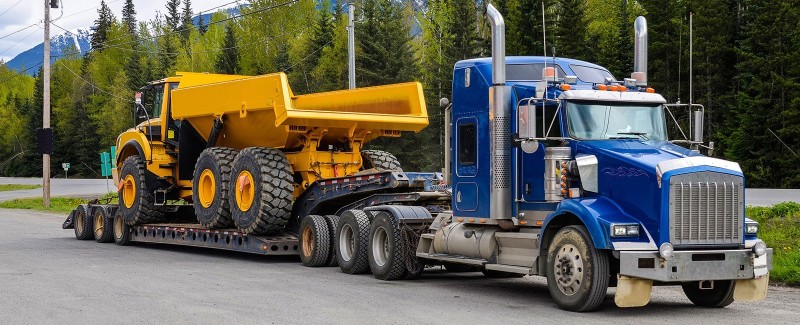 Running a construction company means working on a wide variety of job sites. However, when you get a new contract for a project, how do you transport your construction equipment to the location? That's where heavy haul transportation comes in. At Osage Specialized Trucking, we offer many solutions to help bring your machinery to anywhere it needs to go.
HOW DO YOU TRANSPORT HEAVY CONSTRUCTION EQUIPMENT?
There are a few considerations to think about before hauling heavy construction equipment, including:
Weight – Extra-heavy machinery needs heavy-duty trucks and trailers to move from point A to B. In some cases, the equipment may need to get broken down for transport.
Height – As we'll discuss later, states have height restrictions for truck loads. You also have to consider clearance issues, such as bridges and signs.
Width – Wide loads require pilot vehicles, lights, and signage.
So, depending on the size of your equipment, you have to utilize various trucks, trailers, and secondary vehicles to transport it. For example, tall loads likely need a lowboy trailer to avoid clearance headaches.
WHAT KIND OF EQUIPMENT IS USED FOR TRANSPORTING CONSTRUCTION EQUIPMENT?
Since no two pieces of construction equipment are identical, you need a wide array of trailer types to transport everything. Some of the most common options available include:
Flatbed Trailer – This model usually has two or three axles and sits about five feet off the ground. Flatbed trailers work well for raw materials or relatively short construction vehicles.
Drop Deck Trailer – In this case, the main flatbed sits lower at about 3 1/2 feet off the ground. You can find different types of drop deck trailers, including expandable versions and double drop trailers. Double drop varieties are even lower, usually around 29 inches off the ground. Another name for this trailer is a lowboy.
Nine Axle Trailer – As the name suggests, this trailer has nine axles. The rear portion attaches to a front trailer. The benefit of a nine-axle model is that it's easier to maneuver since there is one more attachment point at the front.
REGULATIONS ABOUT CONSTRUCTION EQUIPMENT TRANSPORT
Whether your job site is in the same state or across state lines, you must obey state and federal laws and regulations. Here's an overview of what to expect:
Width Limit – Commercial motor vehicles (CMVs) are limited to 102 inches wide. However, this limit does not extend to the load itself.
Height Limit – There is no federal height limit, but each state sets its own. The range is between 13 1/2 feet to 14 feet on average.
Length Limit – Again, there is no federal guideline on how long a load can be. That said, semi-trailers must not exceed 48 feet.
Pilot Vehicles – As a rule, any load that exceeds any of these limits needs a pilot vehicle. Regarding length, any load that exceeds 100 feet requires a rear vehicle. If the shipment is more than 125 feet in some states, the truck also needs a front pilot car.
Signage – You need lights and signage for any load exceeding state and federal limits. Most states also require flashing lights to make it easier for drivers to see.
Time Constraints – Oversized loads can only be on the road from half an hour before sunrise to half an hour before sunset. Holiday travel is also restricted in most states.
HOW MUCH DOES IT COST TO SHIP CONSTRUCTION EQUIPMENT?
The precise cost of hauling services for construction equipment depends on a few factors, such as:
Oversized vs. Standard Loads – Oversized loads require extra permitting, signage, and specialized trailers. So, it will cost more to ship this type of equipment.
Distance – Rates are often based on distance limits. So, hauling a load 100 miles is much more affordable than taking it 500 or 1,000 miles.
Insurance – Each load requires insurance to be on the road. This way, if something happens, you have the peace of mind of knowing your gear is financially secured. The more valuable the equipment, the pricier the insurance.
Overall, you can expect to pay between $2,000 and $5,000 per piece. We offer itemized invoices, so you know where your money is going.
WHY CHOOSE OSAGE SPECIALIZED TRANSPORT
When transporting construction equipment, you can't leave anything to chance. Work with a high-quality company like Osage and feel confident that your machinery will arrive on time and in pristine condition. Contact us today to find out more.