Fun Fact of the day: the total revenue of the US trucking industry from 2018 is around $800 billion, meaning if the US trucking industry were a country of its own it would be around the size of the nominal Gross Domestic Product (GDP) of Turkey! The trucking industry plays a vital, and underappreciated, role in the tapestry that is the American economy and almost every industry and sector relies on trucking for logistics and transportation of goods.
What to Consider When Preparing to Transport an Oversize Load
With so much transportation of goods happening on a day-to-day basis, this inevitably includes transporting oversize items, from premanufactured homes to aircraft wings and wind turbine blades and other large equipment and machinery. These classic examples of oversized/overweight loads require special state permits because they pose a danger to the driver or others on the road and special precautions need to be taken for safety and protection of national infrastructure.
For example, permit restrictions may apply. Before applying for an oversized shipment permit, the exact route must be specified. Each state is different but a good general rule of thumb is that most states will only allow oversized loads to be transported within half an hour of dawn and dusk, only on weekdays, and exempting transport on holidays. These drive time restrictions are important for shippers to know when trying to maintain schedules.
In addition, you'll need to consider the sometimes complex legal requirements associated with transporting oversized cargo.
What are the Legal Requirements for Transporting an Oversize Load?
The Federal Highway Act of 1956 created the Federal Highway Administration (FHWA) to oversee the nation's interstate infrastructure. Further changes and amendments in the coming decades resulted in the creation and classification of the National Network (NN). The NN was authorized by the Surface Transportation Assistance Act (STAA) of 1982 and specified in the U.S. Code of Federal Regulations (23 CFR 658).
These rules were codified to preserve national infrastructure and promote safety in normal times. Conventional vehicle combinations allowed on the NN are tractors with one semi-trailer up to 48 ft in length or with one 28 ft semi-trailer and one 28 ft trailer, each up to 102 inches in width. Anything longer or wider is prohibited on the NN unless special permission is given by the states. The transportation of oversized and overweight loads can be done provided sufficient safety precautions are met, which are detailed below.
Generally, the maximum length of a flatbed truck trailer allowed is 48 ft, however, 25 states allow 53 ft long trailers without permits. So the heart of the matter is down to the dimensions of the oversized cargo as the flatbed truck itself is largely modular and standardized across the country.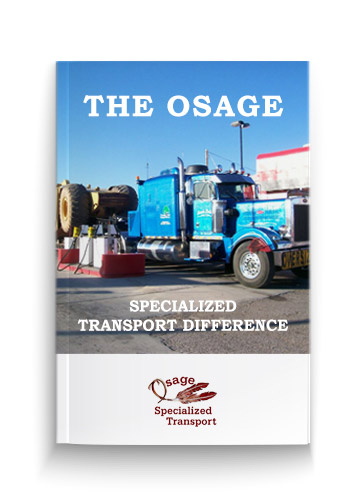 Got Specialized Transportation Needs? We Have Solutions!
Whether hauling an oversize load, specialized construction equipment, or need a one-way freight, Osage has you covered! Download our brochure to discover the difference working with a company that has 40-plus years in the business can offer to you and your business' bottom line!
Oversize Load Definitions
According to the Federal government, an oversized haul is a vehicle and/or shipment that is wider than 8 ft 6 in (102 in), whose gross vehicle weight (GVW) is over 80,000 pounds. Most states have a max height limit of 13 ft 6 in (162 in), with overpasses on the NN constructed for a maximum height of 15 ft.
Vehicle legal weight falls under the following classifications:
80,000 lbs GVW
20,000 lb single axle weight
34,000 lb tandem axle weight
Anything over these limits needs a permit. However, other criteria need to be met before a state will issue a permit.
Oversize Load Permits Are Granted If Load Meets Nondivisible Exception
Flatbed drivers will not be granted permits for any cargo that is reasonably divisible. Nondivisible loads are defined by the FHWA as any load or vehicle exceeding applicable length or weight limits which, if separated into smaller loads or vehicles, would:
Compromise the intended use of the vehicle, i.e., make it unable to perform the function for which it was intended;
Destroy the value of the cargo or vehicle, i.e., make it unusable for its intended purpose; or
Require more than 8 work hours to dismantle using appropriate equipment. The applicant for a nondivisible cargo permit has the burden of proof as to the number of work-hours required to dismantle the cargo.
This makes sense. Complicated pieces of machinery cannot be trivially disassembled, nor can the structural integrity of an airframe be maintained if it is cut in half only for transport. Yet if you need to transport 100,000 lbs of scrap iron and you are on a tight schedule – you likely can easily ship 80,000 lbs and 20,000 lbs without requiring a permit.
As always, limitations are determined by states and some states will allow oversized shipment permits for nondivisible loads, although the vast majority do not. Check with local state contacts for whether or not your oversized cargo needs to be nondivisible.
Pilot/Escort Vehicle Operators
Safety is paramount while transporting oversized loads and to receive an oversized load permit proper provisions may need to be made for vehicle guides. For transporting oversized loads over 12 ft wide at least one pilot/escort operator (P/EVO) in a properly marked vehicle is needed to alert drivers and pedestrians to the presence of oversized cargo. Requiring certification, the P/EVO helps protect other drivers, their vehicles, and property from damage from the oversized cargo as it is transported because traditional safety precautions are unmet.
Guidelines are set by the FHWA and the reasoning is for having guiding vehicles is simple – oversized loads prevent the cargo drivers from using their mirrors. Oversized loads are also less maneuverable, take longer to stop and accelerate, and have a wider turning radius. These oversize loads make the vehicle less stable and prone to rolling over, trailer sway, rearward amplification, tail swing, off-tracking and more.
All P/EVO vehicles must be uniformly identified with required durable, fade-resistant yellow "OVERSIZED LOAD" sign (usually on the rooftop) and amber flashing or rotating lights that provide 360° visibility from at least 100 ft away.
Lead P/EVO Responsibilities Include:
warning the driver of upcoming traffic, construction zones, pedestrians and other obstacles and hazards
staying 20 seconds ahead of the cargo vehicle
Rear P/EVO Responsibilities Include:
watching motorists approaching from the rear
reporting cargo shifting, flat tires, tie-down malfunctions or anything else about the shipment that poses a safety threat to safe shipment transportation
assisting the oversize shipment driver in changing lanes and merging onto highways by "protecting" the lane(s) needed by the oversize load
Exemptions To Width/Length Measurements
Measuring your shipment is important and there are some significant types of non-cargo carrying devices excluded from the measurement of the width and/or length of the transport vehicle
rearview mirrors, turn signal lamps, handholds for cab entry/egress, splash-and-spray suppressant devices are excluded from measurement regardless of how far they extend
load-induced tire bulge
all non-property carrying devices or components at the front of a semitrailer or trailer
devices that do not extend more than 3 in beyond each side or the rear of a vehicle, devices needed for loading or unloading that do not extend more than 24 in beyond the rear of the vehicle
aerodynamic devices that do not extend more than 5 ft beyond the rear of a vehicle and they do not obscure tail lamps, turn signals, marker lamps, identification lamps, or any other required safety features
Know the length and weight dimensions of your cargo. The flatbed driver/operator whose nondivisible haul exceeds a width of 102 in or a GVW of 80,000 pounds then you will need to purchase oversize/overweight permits from each state the cargo is transported through. Depending on load width proper provisioning for having P/EVO's guide the transportation may be required. Knowing these limits will allow for proper scheduling.
Categorised in: Oversize Hauling