How much do truckers make? With just a little experience, it is possible for you to earn a very attractive salary as a truck driver in this country and there has never been a better time to join the profession. There is a serious shortage of truck drivers currently and trucking companies are offering better salaries and more perks in an effort to attract new drivers.
Some companies are also offering to train new candidates so they can acquire the necessary skills to become a good long-distance truck driver and add value to the company. Browse through the information included below to see if hauling sounds like a good career fit for you. Then, you may want to start researching some opportunities currently available for new operators. There will undoubtedly be some openings in your area that you can follow up on and break into the business quickly.
Truck driver job description
Typically, the responsibilities of an operator involve the transportation of goods and merchandise between manufacturing, distribution, and centers where retail business is conducted. In some cases, sales and customer service are also part of operators' duties, although that is not the norm. It's also possible that duties might include inspecting vehicles for basic repair work or any kind of mechanical issues that are involved with safe operation.
Some of the specific duties that might be included in operator responsibilities are the following:
inspect trucks and logbooks or records
transport merchandise promptly to clients
drive potentially long distances to ensure on-time delivery to customers
loading and unloading shippable goods
plan driving routes with a GPS system
keep a commercial drivers license valid and up-to-date
present a positive attitude toward customers
report mechanical issues to appropriate repair personnel
record deliveries of shipments
clean the vehicle as needed and accomplish refueling
maintain a log of activities and hours
follow appropriate procedures when an accident happens
obey all traffic laws
report any road incidents to the appropriate personnel, e.g. the dispatcher.
How many hours are truck drivers expected to work?
How much do truck drivers work? The US Department of Transportation (DOT) is responsible for regulating the total number of hours that any hauler is allowed to drive each day, as well as the total hauling hours in any given week. These limitations are established so that drivers remain safe while driving, and so they don't endanger the welfare of others on the road around them.
The purpose of establishing these limits is to ensure that drivers are well rested and aren't driving drowsy, which can lead to some major problems. To begin with, any operator embarking on a period of work service must have had at least 10 hours off duty before reporting back for work. Drivers are not allowed to work any more than 60 hours during seven consecutive days, because more than that leads to fatigue and will impact performance.
As long as an operator has at least 10 hours off duty, he/she can be hauling for as many as 14 hours on duty, although only 11 of those hours can be actual hauling time. Anytime the driver has been on duty for at least eight hours, he/she must have at least a 30-minute break before driving again.
There are some exceptions to these rules, for instance, the one that refers to a driver who is on a one-day work schedule being allowed to take on 16 hours of hauling provided they start and end at the same terminal. There is another exception that says if a driver is unable to reach a destination after having been on the road for 11 hours, the driver can continue for no more than another two hours attempting to reach the destination.
When weather conditions do not allow for an operator to pull over at a hotel and stop for 10 hours off duty, the driving time can be extended by as much as two hours. Any time a driver is found to have violated one of the above hauling regulations he/she can be shut down immediately until they have accumulated 10 hours of off-duty time, to be rested and ready to drive again.
It's also possible for state or local agencies to assess fines against drivers who are found in violation. The Federal Motor Carrier Safety Administration might impose a fine between $1,000 and $11,000. If a driver is found to have demonstrated a pattern of rule violations their safety rating can be downgraded, which will make employment more difficult. Any trucking company that allows violations of these regulations is subject to federal criminal penalties and those same penalties can be enforced against the drivers themselves.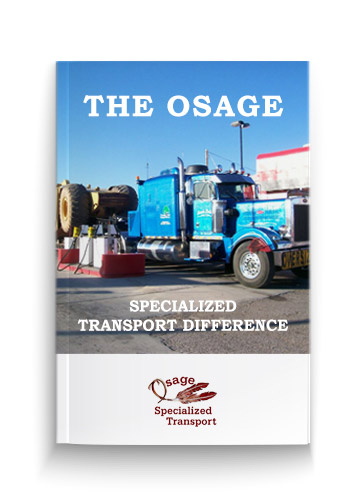 Got Specialized Transportation Needs? We Have Solutions!
Whether hauling an oversize load, specialized construction equipment, or need a one-way freight, Osage has you covered! Download our brochure to discover the difference working with a company that has 40-plus years in the business can offer to you and your business' bottom line!
Truck driver annual salary expectations
How much do truck drivers get paid? The average trucker salary will vary from state to state, with the high salary being in New York State at $56,506 annually, or $27.17 per hour. By contrast, the lowest annual salary in this country is for drivers in North Carolina who can expect to earn $39,911 annually or $19.19 per hour. All other truck operator salaries in this country will fall somewhere between those two high and low averages, with the higher averages tending to occur in the northeast part of the country, and the lower salaries occurring primarily in the South.
There are, of course, variations on these salaries if you happen to work for a nationally known delivery company such as UPS, where an average salary might run as much as $65,000 per year. These jobs, however, are not considered to be local trucking companies and that's why they fall outside the range of established trucker salaries. It's very possible that when you work for a delivery company, you may get paid a higher or lower salary because the job mostly calls for local deliveries rather than long-distance hauling.
What can a first-year truck driver make?
First-year truckers should expect to make less than the national average because the truth is you represent a high risk to any trucking company. First-year tractor-trailer drivers will almost always be in more accidents and accumulate more violations than experienced drivers will. The best strategy for a beginning truck operator is to go through a truck driving school that offers employment placement assistance; there are several of these in the country.
Some companies offer fairly attractive pay for first-year drivers who get their schooling through the company and then pay back the costs over a period of two or three years working for the company. Although you might start at a very modest salary as a first-year truck operator, each year that you work for the same company you should notice you're getting a significant increase based on your good performance, your safety record, and your accumulated experience.
A few things to keep in mind about how you're paid in that first year include the mileage you accumulate while hauling, the set rate for delivering a specific load, and the hourly rate for driving. Any one of these might constitute the basis for your pay and it will depend on the company you work with as to which of these is used.
In some cases, you can earn extra money by loading and unloading and you may even get paid if you're held up at a specific customer's location. You might also earn bonuses or some kind of performance pay based on fuel management and safe driving practices. Keep in mind that your first-year pay will also include a benefits package, and there may be some company perks such as tuition reimbursement, group discounts, free parking, exercise rooms, laundry areas, and maybe even shower areas.
All of these should be considered part of your base pay, and it may account for having a lower initial salary during that first year.
Final thoughts on truck driver salaries
The trucking industry can be a rewarding career for any person to embark upon. It's something that is currently in great demand in this country. Depending on your employer, you might want to work for a long time, because they treat you right and working conditions are favorable for employees. One of the nation's premier trucking companies, Osage Special, is one of those companies that values its employees and provides a number of perks to attract the best operators in the country.
Osage Special provides oversize load transport services to clients throughout the country. This may be something you are interested in doing and it has a number of other attractive hauling services that it provides to clients that its experienced operators are capable of managing. The sophisticated transportation management systems used at Osage Special ensures that orderly trucking is conducted at all times and that operators always have a good idea about their next assignment. Contact us at Osage Special to inquire about any openings currently available for new truck drivers.
Categorised in: Driver Resources, Transport Services