Founded in 1995
Greatwide Truckload Management Team Member
Top 5 Agent for Greatwide, Greentree Transportation & Midwest
Buchanan Hauling & Rigging Agent
Locate Manitoba Ports of Entry
---
Trucking Companies in Manitoba
The premier specialized trucking service available to businesses and industries operating in Manitoba is none other than Osage Specialized Transport. We can provide professional trucking services to you and your business in a variety of ways.
If you reside in Manitoba, and you are looking for trucking companies with specialized equipment and oversized load-hauling, you can rest easy knowing that Osage Specialized Transport can service business in the province. Businesses and companies requiring trucking companies with specialized equipment and oversized load hauling include the pipeline industry, construction industry, the energy sector, agriculture, and mining, among other businesses that utilize heavy equipment.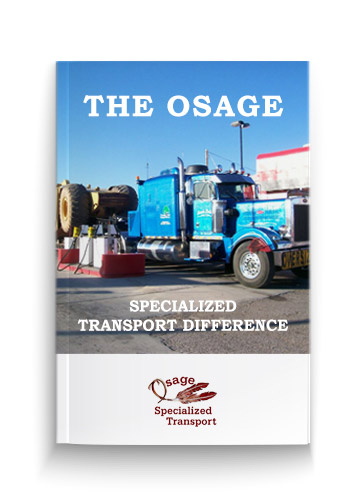 Got Specialized Transportation Needs? We Have Solutions!
Whether hauling an oversize load, specialized construction equipment, or need a one-way freight, Osage has you covered! Download our brochure to discover the difference working with a company that has 40-plus years in the business can offer to you and your business' bottom line!
How Osage Specialized Transport Serves Manitoba
Osage Specialized Transport has over four decades of experience in the field, working hand–in–hand with top companies in the energy sector, heavy equipment-related businesses, and large carriers. The company has built trust with its clients as full-service transportation and logistics agent by transporting any form of cargo like flatbeds or even an entire job site. Below are details on how we proudly serve the people of Manitoba.
Specialized Transport
When it comes to hauling and freight transport services, Osage Specialized Transport is a non-asset-based agent working with large cargo. Our company offers commendable transport services compliments of our effective drivers. We have direct communication with the drivers till the carrier reaches its intended destination. In addition, we can supply superior services compared to other trucking companies as our employees are credible and reliable.
Some of the specialized transportation we offer includes all phase transportation, heavy equipment, on- and off-road equipment service, moving an entire job site, and equipment tracking, among other services. Our trucks range from flatbed trailers, step deck stretch trailers, flatbed stretch trailers, and step deck trailers. We offer transportation across the United States and Canada, delivering our customers' cargo efficiently and at an affordable price.
Oversize Load
Here at Osage Specialized Transport, we specialize in the transportation of heavy equipment and operating vehicles to carry an oversized load. We understand that companies or businesses requiring transportation of oversized freight need their cargo to arrive safe and intact. We are experienced in handling oversized loads like backhoes, excavators, bulldozers, forklifts, crushers, side booms, tractors, bridge beams, pre-assembled homes, and water tanks.
With over forty years of experience, trust us when we say we can handle different sizes of loads. At Osage Specialized Transportation, we understand the laws and safety regulations involved in hauling heavy equipment and oversized loads. Our trucks and professional drivers can handle any form of terrain, from icy roads, uneven surfaces to winding highways, till your carry arrives at the desired destination.
Logistics & Transportation Management
A transportation company is incomplete without logistics and transportation management, and we understand that at Osage Specialized Transportation. We can coordinate, track, and adapt to logistical needs as per your demands. Our logistics company is located in Denver, CO, to ensure efficient services to your freight transport needs.
Our company has an internal dispatch to ensure your cargo is handled accordingly. We have coordinated and well-scheduled load pick-ups and drops and adapt to change in schedules. In addition, Osage Specialized Transportation has tracking abilities to give our clients peace by letting them know exactly where their freight is. Through our tracking system, we can get up-to-the-minute information on your cargo by machine and serial number.
Specialized Transport & Hauling Services in Manitoba
Based on the proposed projects targeted at expanding the plantation pipeline sector, companies should consider working closely with Osage Specialized Transportation. Some of the projects mentioned in the proposed expansion include Voyager Pipeline, Magellan Midstream Partners, L.P, Navigator Energy Services, Keystone Pipeline, LLC, Jordan Cove Energy Project, L.P, Pacific Connector Gas Pipeline, LP, Kinder Morgan, Inc., and Permian Highway Pipeline Project.
Osage Specialized Transportation focuses on pipeline and pressure gas equipment but not exclusively. On an everyday basis, the company runs about 40-50 trucks which can increase depending on the demand and how busy the pipeline industry can get.
We dipped our foot in the pipeline industry during the pipeline project in Cook of Houston; Texas was looking for a local equipment transporter from Casper, Wyoming to Colorado Springs, Colorado. Over the years, we have earned the trust to work with Ruby Pipeline, the 1st Keystone line, the North Dakota Access, and the Rover Pipeline. We look forward to offering our specialized transportation and hauling service in Manitoba and working with the province's upcoming pipelines.
Trucking Areas We Specialize In
Heavy Machinery
Construction equipment
Agriculture machinery
Aerospace components
Industrial manufacturing devices
Excavation Equipment
Industries We Serve
Coal excavation
Food manufacturing
Dairy farmers
Oil & natural gas pipelines
Wind energy
Local agronomy
---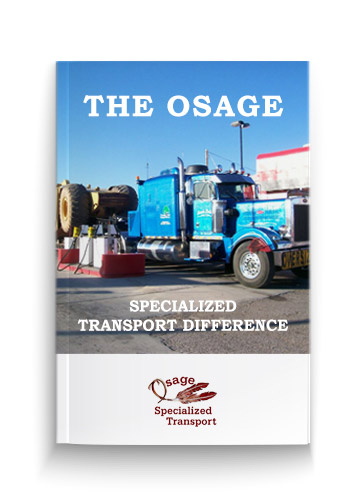 Need Heavy Equipment Hauled? We Have You Covered!
Whether hauling an oversize load, specialized construction equipment, or need a one-way freight, Osage has you covered! Download our brochure to discover the difference working with a company that has 40-plus years in the business can offer to you and your business' bottom line!
More States We Offer Trucking Services In
Call Osage Specialized Trucking Today
Do you need to transport heavy loads from or to the province of Manitoba? Don't put too much pressure on yourself. Osage Specialized Transportation is at your service. You will be pleased with our heavy hauling services. We aim to offer our clients in the area the finest transportation and logistical solutions possible. We're also always ready to help you optimize your freight operations. So, if you're ready to get your large cargo on the road, give us a call at (303) 326-0374 or send us a message online today.