Who is Osage Specialized Transport?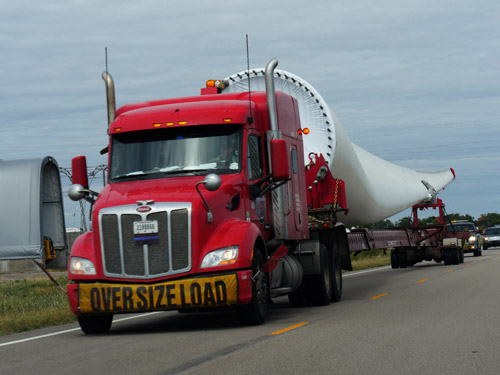 We are the heavy haul trucking company you can count on in Texas. Headquartered in Colorado, we transport all over the U.S. and Canada. For over four decades, Osage Specialized Transport has been helping companies get oversized and specialized loads to their destinations on time and at a reasonable price.
Osage is a full-service transportation and logistics agent. Whether it's a flatbed, a building, tankers, even a complete job site, we have the resources and network to handle your requirements. We leverage our long experience in this specialized field and our connections with a variety of large carriers to transport your load.
In the last 40 years, we have helped hundreds of clients in a range of fields including gas and pipeline, construction, mining, manufacturing, and farming. Osage can safely and reliably move your heavy machinery, equipment and oversized loads. Satisfied customers include John Deere, Link-belt and Volvo.
Osage Specialized Transport opened in 1995 as Native Sons Transportation, owned jointly by Alvin Chowning and Gineva McKinney. Together they have over seven decades of experience in the transportation field. As a trucker, Al Chowning personally hauled machinery, chemicals, steel and more. Gineva McKinney has vast experience with dispatch, payment and invoicing. Together they bring years of practical know-how to your specialized transport needs.
At the heart of Osage is our network of owner-operators. We work with experienced and dependable truckers who appreciate our reputation for handling the administrative part of their job quickly and efficiently. We work with the best, which lets us give our customers the highest quality service.
While we're located in Texas, our work takes us all over the United States and Canada. We know the challenges you face with transport and logistics. That's why we offer phone support 24/7.
Services Do We Excel In?
Versatility
As a non-asset-based agent, Osage networks with a range of large carriers. This gives us the flexibility and versatility to move your load. We work with a fleet of owner-operators in Texas so we have access to the right equipment to transport your job.
Quick Communication
We are constantly in direct contact with each owner-operator, using the most advanced communication tools. We know where your load is and can make adjustments quickly. We offer support—with a real person–24/7 for your job.
Range of Trailers and Sizes
We transport your load in the most efficient manner possible. Our Texas owner-operators have flatbed trailers, flatbed stretch trailers, step deck stretch trailers, and step deck trailers.
All Types of Jobs
If you need just one piece of equipment or an entire spread, we can do the job. We handle both on- and off-road service for all types of heavy equipment for industries like construction and pipeline.
Osage tracks every piece of your equipment during transport. We can arrange storage in specific locations. We handle permit service for you, including oversize and overweight.
Our prices are reasonable. You can even pay with a credit card.
Oversize Load
Oversize loads can be a logistic nightmare, but they don't have to be. When you work with the experts here at Osage Specialized Transport in Texas, we handle it all. Our experienced staff has the professional know-how to get your load to its destination on time, safely and reliably. When you trust your load to Osage, you get peace of mind.
Multiple laws and requirements in different municipalities determine what is legal for oversized loads. We have the administrative skills to do it legally and safely. With over four decades in this specialized area of transport, we know how terrain and other considerations affect the logistics of the move.
Our fleet of owner-operators are professionals. They have the experience to drive your load securely through all types of Texas weather extremes, on steep, winding, rugged and icy roads.
Logistics & Transportation Management
Big loads mean big investments. That's why we handle each one with meticulous care and attention to detail. Whether you need a job delivered within the state of Texas, across the U.S., or Canada, we will handle the entire process.
We know that driving the load is just part of the equation. Equally important is tracking the load, communicating with the driver, and making adjustments as needed while in transport.
Our transportation management system, or TMS, is the best in the business. Wherever your load is, we are in communication and on top of the job with internal dispatch, tracking ability, integration and load boards.
Tracking Ability
You never have to worry where you load is. With our state-of-the-art tracking management, Osage always maintains the chain of custody. We can track by machine, serial number or customer at any time. You are assured of practical, true data throughout the transport process.
Integration
When you work with Osage, you get load information and invoice processing that is user-friendly and immediate. We make it simple to find whatever data you need. Our security is second to none, so your data is always safe.
Load Boards
Our TMS uses a range of load boards. As a result, your load stays on schedule and is always in compliance with DOT standards. You don't need to worry about expensive deadheads or wasted runs when you trust your job to Osage.
Why Choose Osage?
40 years of hands-on experience
Founded and run by trucking professionals
Trusted network of skilled owner-operators
Specialized transport rigs and equipment to get the job transported safely
Transport throughout the United States and Canada.
Big and small jobs: one piece of equipment or an entire job site
Pipeline and gas industry
Construction industry
Mining industry
Manufacturing industry
Farming industry
Satisfied clients like John Deere, Hitachi, Komatsu and more
State-of-the-art truck management system
24/7 support from a real person
Dedicated internal dispatcher and logistics agent for each job
Up-to-the-minute tracking, communication, and adjustments
User-friendly access to truck management data
Data security.
Professional permit handling
On- and off-road transport
Storage in specific locations