Founded in 1995
Greatwide Truckload Management Team Member
Top 5 Agent for Greatwide, Greentree Transportation & Midwest
Buchanan Hauling & Rigging Agent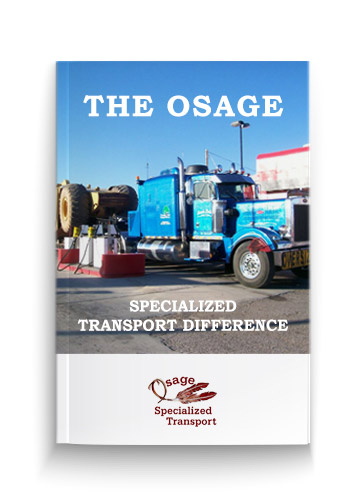 Got Specialized Transportation Needs? We Have Solutions!
Whether hauling an oversize load, specialized construction equipment, or need a one-way freight, Osage has you covered! Download our brochure to discover the difference working with a company that has 40-plus years in the business can offer to you and your business' bottom line!
Who is Osage Specialized Transport?

Osage Specialized Transport is a company that specializes in heavy hauling services. It was founded in January 1995 as a Native Sons Transportation as an independent carrier. Later in 2001, the company became an agent-organized trucking company and began working with larger carriers who employed operators. As the company's structure changed, they decided to change the name to suit the company and its future. It changed from asset-based to non-asset-based agents, which allowed the company to grow while the owners gained their own unique freedom as independent business owners.
At Osage, the customers and drivers matter the most and we strive to maintain an excellent working relationship with both. The company also strives to be involved in most ground-level processes such as loading, unloading, and proof of delivery paperwork. All our drivers at Osage are qualified and familiar with the commodities and the equipment the company hauls. We employ drivers who understand the state of Nevada, and the conditions of major and minor thoroughfares across the Silver State.
---
What Transportation Services Do We Excel In?
Why Choose Osage Specialized Transport?
Osage believes that customers and drivers are the pillars of the business. We work hard to maintain a proactive business relationship with all our drivers and clients, and that is how we have managed to maintain a long-lasting working relationship with most of them. We also ensure that the process of shipping your load is as smooth as possible as we are involved in ground-level processes like loading and unloading. Our drivers are also well-versed with the terrains and are fully equipped with knowledge and skills to handle any road mishaps, including bad weather.
Our customer services department is always ready to help you with any information you may need and provide helpful answers to your questions. The company can track every machine and vehicle that we move and check the condition every time it moves. This helps us keep track of delivery locations and the parts that go along with those machines.