OHIO TRUCKING COMPANY
Specialized Equipment & Oversized Load Hauling
Have product, goods, or equipment you need moved to or from Ohio? If so, call (303) 326-0374 or use the form to contact Osage Specialized Transport today for an estimate!
Founded in 1995
Greatwide Truckload Management Team Member
Top 5 Agent for Greatwide, Greentree Transportation & Midwest
Buchanan Hauling & Rigging Agent

Location Contact Form
"*" indicates required fields
When you need reliable and timely transport of heavy equipment or industrial machinery anywhere in Ohio, trust a company with experience and dedication. Osage Specialized Transport smoothly and expertly hauls your equipment, so it's there when you need it–transporting to, from, or within Ohio.
We employ a qualified network of carriers, who know the best trucking routes throughout the Buckeye State, and are prepared to help transport your equipment or other loads safely and efficiently across the state. Whether you need delivery or pickup in Cleveland, Columbus, or Cincinnati, or throughout the rest of the state, our drivers are available to meet your needs.
Ohio is a stronghold for industry, including manufacturing, agriculture, mining, and other industries that use heavy machines to perform massive jobs, as the Ohio Dept. of Commerce attests. At Osage, we are devoted to making sure your hard work in this great state is successful. We are here to help you move almost effortlessly from project to project, with your giant toolbox of machinery always ready and waiting for you.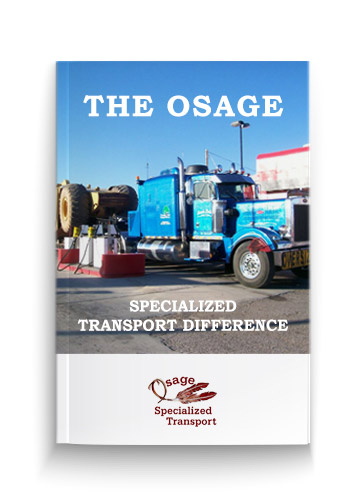 NEED HEAVY EQUIPMENT HAULED? WE HAVE YOU COVERED!
Whether hauling an oversize load, specialized construction equipment, or need a one-way freight, Osage has you covered! Download our brochure to discover the difference working with a company that has 40-plus years in the business can offer to you and your business' bottom line!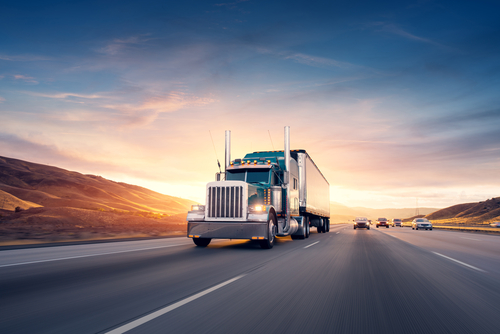 In 1995, Osage Specialized Transport Inc. was founded by its two co-owners as an asset-based company that provided trucking services to customers mostly situated in Colorado. In the nearly 25 years since then, the company has altered its structure to become a non-asset-based trucking firm that works with large carriers as an agent.
Another huge development during that time has been the enormous growth that the company has undergone, with a fleet of 50 vehicles on the road at present, and the possibility of even greater expansion in the future. Although still headquartered in Colorado, Osage now has a physical presence in many other states, such as Ohio, and that means it can provide services for far more customers in different locations around the country.
Osage Specialized Transport has made a specialty out of hauling wide or oversized loads between cities and it has come to provide services for many industries that rely on heavy equipment, for instance, the pipeline industry, the construction industry, and several others. One of the distinctive features of Osage is its logistics and transportation management system that provides highly sophisticated tracking of all loads and helps to supply the logistical needs of transports in progress.
The company makes a point of adhering to a philosophy that considers the greatest assets it has to be its customers and its drivers. Actions and policies of the company reinforce this, so that superior customer service is always provided, and so drivers are well taken care of and highly motivated to perform their responsibilities.
WE CATER TO A WIDE VARIETY OF CLIENTELE
Our background and innovative business growth mean that we have the trucking equipment, logistical expertise, and industry-specific knowledge required to move your shipment. While we specialize in transportation logistics and hauling heavy equipment, we serve professionals from a wide range of industries.
AREAS WE SPECIALIZE IN
Heavy machinery
Agriculture equipment
Industrial manufacturing devices
Construction equipment
Aerospace components
Excavation equipment
INDUSTRIES WE SERVE
Coal excavation
Food manufacturing
Dairy farmers
Oil & natural gas pipelines
Wind energy
Local agronomy
WHAT TRANSPORTATION SERVICES DO WE EXCEL IN?
Over time, our company has hauled just about every type of heavy equipment in existence across Ohio. Our well-qualified and prepared drivers are adept at dealing with all Ohio transport challenges, on the open road, and in congested city areas. Drivers skillfully negotiate winding interstate highways through the Windy City, as well as ice-covered state roads in rural areas of Ohio. Heavy traffic, weigh stations, and underpasses are properly navigated by skilled truckers, who are capable of making the right decisions on the fly. You can leave your heavy load to us with perfect confidence. We are uniquely qualified to help you with the following transportation services.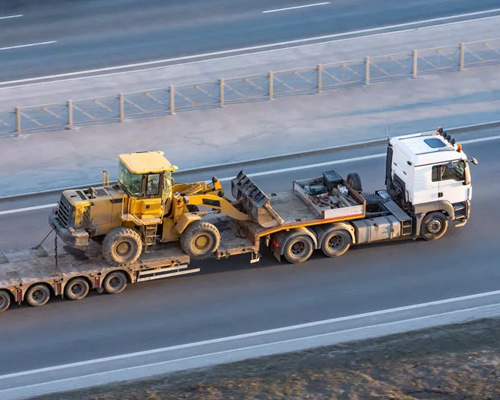 SPECIALIZED TRANSPORT
As a specialized transport company, Osage provides company-controlled owner-operators who can deliver specialized equipment to a job site for the transfer of heavy equipment to virtually any location in the country. Although the company is headquartered in Denver, Colorado, it can provide the specialized hauling services to many states throughout the country, including Ohio.
Across the state driving conditions can vary, on the I-90 in the north of the state, or the I-75 heading south towards Kentucky, and the I-80 east into Pennsylvania, mounting traffic conditions and changing weather can present problems for many carriers. Our network is well aware of present conditions, and prepared to adjust their route to meet shifting demands.
Having direct communications with drivers at all times allows the company to deliver superior service, as opposed to any brokerage company you might encounter. The specialized services delivered by Osage include constant heavy equipment tracking, on and off-road service of moving equipment, moving single pieces or entire job sites, permit service for oversized or overweight loads, storage at various locations, and 24-hour contact with a real person.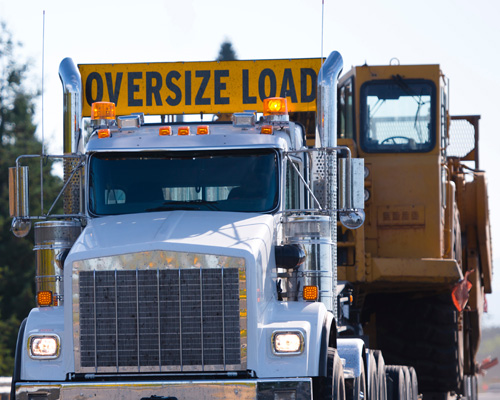 OVERSIZE LOAD
This kind of business is the core business of the company, as Osage has made a specialty of transporting overweight or oversized loads to cities all over the country. With a great deal of experience in this kind of transport, you can rely on Osage to deliver all loads on time, safely, and intact. It also helps that we are able to deliver your wide and oversized loads to virtually any location in the United States or Canada.
We make a point of staying abreast of all relevant regulations regarding these types of loads and our drivers are well informed of how to stay in compliance with all these local laws and regulations. Our drivers have also been well-trained in how to manage such wide loads under adverse road conditions, in heavy traffic, and even in driving up steep or mountainous roadways. Knowing how to manage the transportation of heavy loads is one of the key factors that makes Osage the most reliable and competent heavy load hauling company in the U.S.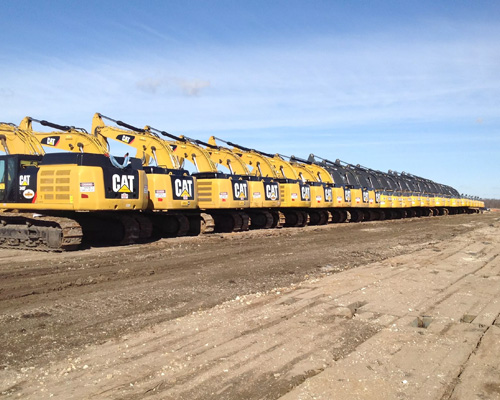 LOGISTICS & TRANSPORTATION MANAGEMENT
In addition to providing skilled drivers and modern hauling equipment to transport wide and heavy loads, Osage is also capable of superior tracking and monitoring of all loads. Using an advanced logistics and transportation management system (TMS), the company is able to provide logistical planning and an appropriate level of monitoring at all times.
Our drivers will make use of our dedicated transportation management system to plan to make use of one of the 22 weigh stations available throughout the state, ensuring that they remain compliant with all state laws regarding their weight on various routes.
Every client partnering with Osage will have a dedicated internal dispatcher and logistics agent who is responsible for tracking your load at our headquarters in Denver, CO. Even though you might be located in Ohio, you can expect to have up-to-the-minute information at all stages of your transport. Loads can be tracked by customers, by machine, or by serial number, so that we always have a way of pinpointing the location of any transport in progress.
That means any question you might have about your load can be answered with hard facts and real data. Whether you need information on the pickup of a scheduled load, the coordination of an LDL pickup, or some kind of change that is necessary to the schedule, we'll always be able to react quickly, using our transportation management system.
Customers are always impressed with how user-friendly our TMS is and how effectively it provides insights into their freight transportation. With this kind of sophisticated system, Osage is able to deliver accurate and timely information on all transports in progress.
WHY CHOOSE OSAGE SPECIALIZED TRANSPORT?
First of all, Osage Specialized Transport Inc. should be your first choice whenever you have a wide or oversized load that needs to be moved from one city to another. Throughout its 24 years of existence, the company has proven that it can deliver superior performance along with a very high level of customer satisfaction.
One of the reasons Osage can deliver this kind of performance is that it has hired some of the best truck drivers in the country, with the necessary skills to transport these types of loads through any kind of road conditions whatsoever. Another big selling point for the company is its highly advanced logistics and transportation management system, which is capable of pinpoint tracking of all loads, and with assisting on logistical planning.
Every customer of the company receives a dedicated internal dispatcher who will work with the client through every phase of the transport, to ensure that everything is going according to plan. Any company that relies on heavy equipment to conduct business and that occasionally needs to move this equipment between cities should first think of Osage because of its reliability and competence in the field.
From its headquarters in Denver, Colorado, Osage can effectively service clients in virtually any state in the country, including Ohio. One of the best reasons to choose Osage is the fact that its company philosophy considers customers and drivers to be its greatest assets, and all company actions bear that out accordingly.
HAVE MORE QUESTIONS? REACH OUT!
Get our logistic expertise on your side and enjoy trouble-free freight operations in Ohio. Contact Osage Specialized Transport online or call us at (303) 326-0374 today!
MORE STATES WE OFFER TRUCKING SERVICES IN