---
When you need reliable and timely transport of heavy equipment or industrial machinery anywhere in Pennsylvania, trust a company with experience and dedication. Osage Specialized Transport smoothly and expertly hauls your equipment, so it's there when you need it–transporting to, from, or within Pennsylvania.
Our network of drivers are prepared to move your equipment safely throughout the state, from Philadelphia to Pittsburgh, and throughout the Appalachian Mountains.
Pennsylvania is a stronghold for industry, including manufacturing, agriculture, mining, and other industries that use heavy machines to perform massive jobs, as the Pennsylvania Dept. of Commerce attests. At Osage, we are devoted to making sure your hard work in this great state is successful. We are here to help you move almost effortlessly from project to project, with your giant toolbox of machinery always ready and waiting for you.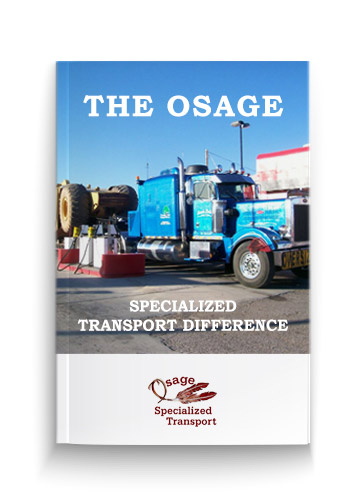 Got Specialized Transportation Needs? We Have Solutions!
Whether hauling an oversize load, specialized construction equipment, or need a one-way freight, Osage has you covered! Download our brochure to discover the difference working with a company that has 40-plus years in the business can offer to you and your business' bottom line!
Who is Osage Specialized Transport?
Originally founded in 1995 as Native Sons Transportation, this company
began life
as an independent carrier, but a mere six years later had already transformed to become an agent-organized trucking company. With this new structure, it could work with some of the largest carriers in the country who employed owner-operators.
At that time, the company name was changed to reflect its altered structure, and it became Osage Specialized Transport Inc., to prepare it for future growth. This was a major step since it allowed the co-owners to become completely free and independent business owners. From the very beginning, Osage has espoused a philosophy where its greatest assets are its customers and its drivers and have remained true to that philosophy ever since.
The same two co-owners who founded the company in 1995 are still the present owners and operators of the company and have guided it to its present position as a recognized superior performer in the area of wide and oversize loads. The company is headquartered in Denver, Colorado, but has now established a presence in many states in the country, including Pennsylvania. This allows them to use an advanced logistics and transport management system to track all loads around the country and to deliver equipment safely and on time to any destination in the U.S. or Canada.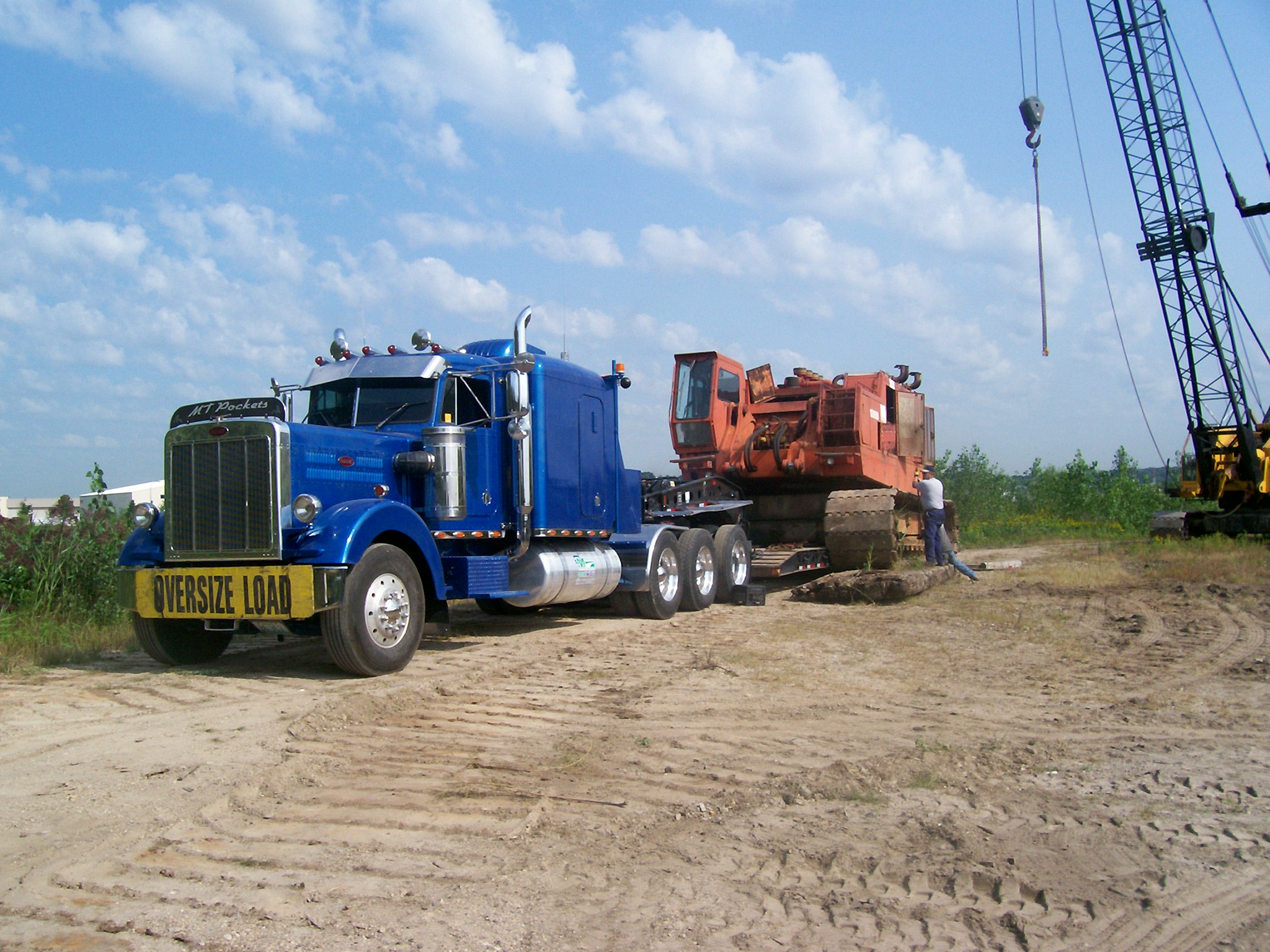 We Cater to a Wide Variety of Clientele
Our background and innovative business growth mean that we have the trucking equipment, logistical expertise, and industry-specific knowledge required to move your shipment. While we specialize in transportation logistics and hauling heavy equipment, we serve professionals from a wide range of industries.
Areas We Specialize In
Machinery tools
Construction facilities
Farming equipment
Factory machinery
Industrial manufacturing devices
Mining facilities
Industries We Serve
Coal mining
Food processing
Dairy farms
Oil and gas pipelines
Livestock/cattle handling
Local cultivation
---
What Transportation Services Do We Excel In?
Over time, our company has hauled just about every type of heavy equipment in existence across Pennsylvania. Our well-qualified and prepared drivers are adept at dealing with all Pennsylvania transport challenges, on the open road, and in congested city areas. Drivers skillfully negotiate winding interstate highways through the Windy City, as well as ice-covered state roads in rural areas of Pennsylvania. Heavy traffic, weigh stations, and underpasses are properly navigated by skilled truckers, who are capable of making the right decisions on the fly. You can leave your heavy load to us with perfect confidence. We are uniquely qualified to help you with the following transportation services.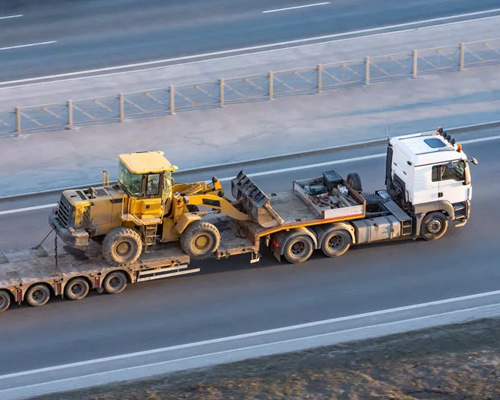 Specialized Transport & Hauling Services
Specialized hauling services are a mainstay of Osage Specialized Transport, providing these services to industries such as the pipeline industry, the construction industry, and various other businesses that rely on heavy equipment. Being specialists in this area, Osage can move either a single piece of equipment or your entire spread or job site to make it convenient for you to quickly relocate all the machinery you need to.
We always employ drivers who are aware of local conditions, and will be prepared to safely transport your equipment across the state. They will know when conditions will require them to utilize tire chains throughout the state, so whether your load is travelling north on the I-79 or I-81, or coming in or out of state on the I-80 or I-90, our drivers will transport it with the utmost care.
When necessary, Osage can provide storage for your equipment at various locations if the destination is not quite ready to receive your equipment. The experience and knowledge that the company has gained in the 24 years since its founding has allowed it to learn all the rules and regulations associated with oversize loads in various states and provinces so that all the necessary permits can be obtained.
Osage can perform all phases of transportation necessary to move your equipment and can pinpoint tracking while it's in transit allowing you to always be aware of its location and its progress.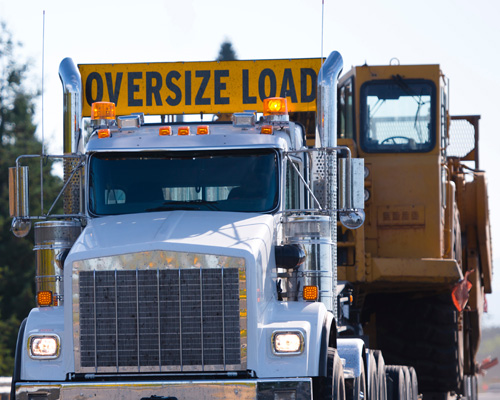 Oversize Loads & Heavy Equipment Transport
Heavy equipment and oversizee loads are the true specialties of Osage Specialized Transport Inc., and the company's success in this area has come from our ability to deliver outstanding performance and high customer satisfaction on every job. Customers do not put their valuable machinery and equipment in the hands of a transport company unless they have a great deal of confidence in its safe arrival at the destination, as well as the ability to effectively track progress at all points.
The drivers we employ know the best routes to utilize when hauling an oversize load, so whether a route necessitates the usage of the Kittatinny Mountain Tunnel or the Blue Mountain Tunnel on the Pennsylvania Turnpike, or if they need to navigate the Poconos, they will be able to plan their route ahead of time, ensuring that there are no speed bumps due to the load's size requirements.
That's exactly what Osage delivers to clients, ensuring that all loads are handled by experienced, well-trained drivers who are capable of managing any kind of adverse road conditions. Many trucking firms are only able to deliver to specific locations in the country, whereas Osage is capable of delivering to virtually any location in the U.S. or Canada. There is a whole slew of special considerations that come into play when you're delivering oversizee or wide loads in this country and Osage has made a point of staying abreast of all these considerations.
Learn MoreVIEW PENNSYLVANIA'S TRUCK SIZE AND WEIGHT LIMIT LAWS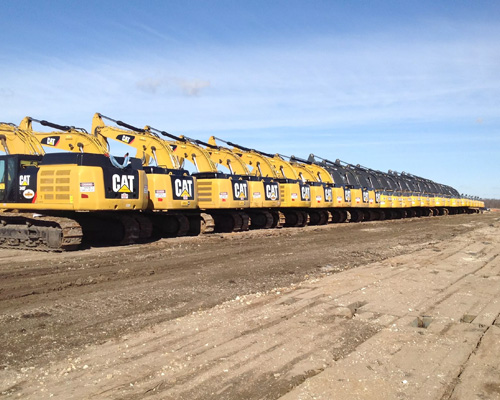 Logistics & Transportation Management
One of the big advantages of partnering with Osage Specialized Transport is the fact that we can make use of a highly advanced logistics and transport management system (TMS) to accomplish logistical planning, as well as pinpoint tracking of all loads. Since every customer receives a dedicated dispatcher and logistics agent to work with at our headquarters, Osage is able to adapt to any change in circumstances quickly, to ensure that your load is handled properly.
Our drivers knowledge, coupled with our dedicated transportation management system, know the location of all 24 weigh stations and scales across the state, and will plan their routes accordingly to satisfy the requirements of the state for secure shipping.
You'll always know exactly where your load is located because of the sophisticated tracking abilities offered by our TMS. You'll have up-to-the-minute information, and since we're able to track by either serial number, machine, or customer number, we'll be able to provide you with hard facts to answer all of your questions.
We also have access to multiple load boards, so our TMS will help to keep drivers right on schedule, be in sync with your operations, and stay in compliance with DOT standards. This means you won't have any wasted runs or costly deadheads. When you partner with Osage, you'll enjoy the benefits of this advanced TMS system that is extremely user-friendly and uses an open API format to allow access to the Osage company website, so that you're always well-informed.
Why Choose Osage Specialized Transport?
One of the foremost reasons to choose Osage as your carrier of choice for wide and oversize loads is its long history of experience and skill in transporting these types of loads across the country. A big part of this success is due to the very well-trained drivers, who are highly motivated to work with us because we make a point of maintaining great relationships with both customers and drivers.
We believe that all these individuals constitute our greatest assets and we go out of our way to cultivate and maintain good relations with all customers and drivers. Another good reason to choose Osage is the fact that you will always have a dedicated internal dispatcher and logistics expert working with you from our headquarters in Denver, Colorado. Even if you are located in Pennsylvania, you'll still have up-to-the-minute information on all loads and their progress, wherever they happen to be.
The advanced logistics and transportation management system provides all the tracking information and is one of the best available systems in the industry. The system not only makes life easier for Osage, but it provides a wealth of information to all clients about their loads. Another great reason to choose Osage is the fact that it can transport your heavy and wide loads almost anywhere in the U.S. or Canada.
The fact is there are very few specialized transport companies in this country that have the versatility, professionalism, and the experience that Osage Specialized Transport does.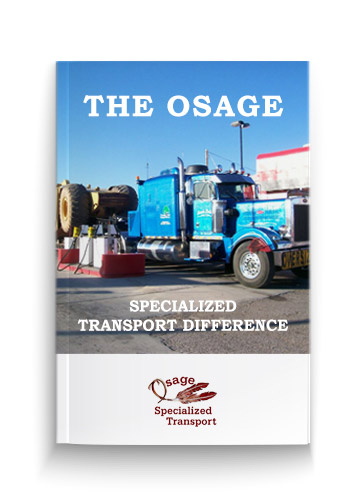 Need Heavy Equipment Hauled? We Have You Covered!
Whether hauling an oversize load, specialized construction equipment, or need a one-way freight, Osage has you covered! Download our brochure to discover the difference working with a company that has 40-plus years in the business can offer to you and your business' bottom line!
More States We Offer Trucking Services In
Have More Questions? Reach Out!
Get our logistic expertise on your side and enjoy trouble-free freight operations in Pennsylvania. Contact Osage Specialized Transport online or call us at (303) 326-0374 today!