Have product, goods, or equipment you need moved to or from Texas? If so, call
(303) 326-0374
or use the form to contact Osage Specialized Transport today for an estimate!
Founded in 1995
Greatwide Truckload Management Team Member
Top 5 Agent for Greatwide, Greentree Transportation & Midwest
Locate Texas Ports of Entry

---
When you need reliable and timely transport of heavy equipment or industrial machinery anywhere in Texas, trust a company with experience and dedication. Osage Specialized Transport smoothly and expertly hauls your equipment, so it's there when you need it–transporting to, from, or within Texas.
We employ the absolute best drivers, hired for not only their safe and secure driving practices, but also for their knowledge of the regions in which they are driving. You can rest assured that if your equipment needs to be in Dallas, Fort Worth, Austin, San Antonio, Houston, or throughout the state, our drivers know the optimal route to get it there.
Texas is a stronghold for industry, including manufacturing, agriculture, mining, and other industries that use heavy machines to perform massive jobs, as the Texas Dept. of Commerce attests. At Osage, we are devoted to making sure your hard work in this great state is successful. We are here to help you move almost effortlessly from project to project, with your giant toolbox of machinery always ready and waiting for you.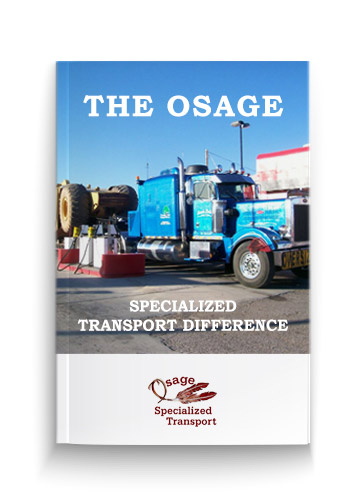 Got Specialized Transportation Needs? We Have Solutions!
Whether hauling an oversize load, specialized construction equipment, or need a one-way freight, Osage has you covered! Download our brochure to discover the difference working with a company that has 40-plus years in the business can offer to you and your business' bottom line!
Who is Osage Specialized Transport?
At Osage Specialized Transport, headquartered in Colorado, we have 40+ years in the transport business, with clients across the US and Canada. This level of experience allows us to transport valuable machinery for our Texas customers in the most efficient manner possible, from job site to job site, project to project. Whether you are in construction, mining, or another Texas-based heavy industry, Osage is there to support you with dependable logistics and extremely capable transport services.Over time, our company history has taken us from independent carrier to agent for the biggest names in the trucking business. Soon after the turn of the century (in 2001, to be exact), we transformed into an agent-organized trucking firm, working closely with bigger carriers that employ owner-operators. Our company's two principals have a total of 75 years in the industry, including long-distance transportation, trucking operations, and truck driving.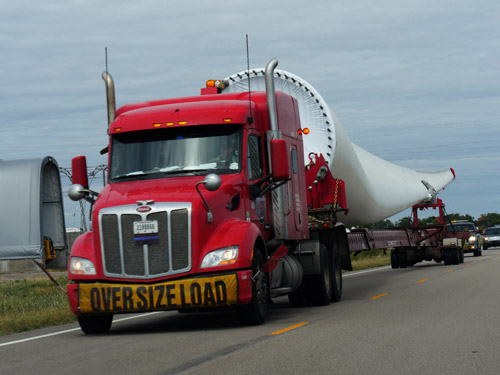 We Cater to a Wide Variety of Clientele
Our background and innovative business growth mean that we have the trucking equipment, logistical expertise, and industry-specific knowledge required to move your shipment. While we specialize in transportation logistics and hauling heavy equipment, we serve professionals from a wide range of industries.
Areas We Specialize In
Machining tools
Construction machinery
Farm equipment
Factory components
Industrial manufacturing devices
Excavation Equipment
Industries We Serve
Coal mining
Food processing
Dairy farming
Oil and gas pipelines
Livestock/cattle management
Local agriculture
---
What Transportation Services Do We Excel In?
Over time, our company has hauled just about every type of heavy equipment in existence across Texas. Our well-qualified and prepared drivers are adept at dealing with all Texas transport challenges, on the open road, and in congested city areas. Drivers skillfully negotiate winding interstate highways through the The Live Music Capital of the World. Heavy traffic, weigh stations, and underpasses are properly navigated by skilled truckers, who are capable of making the right decisions on the fly. You can leave your heavy load to us with perfect confidence. We are uniquely qualified to help you with the following transportation services.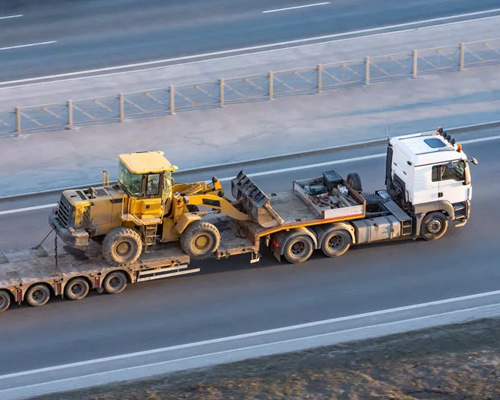 Specialized Transport & Hauling Services
Through our strong relationships with larger carriers, we have access to a wide variety of special-use hauling equipment to meet your transport needs. If your Texas hauling job calls for flatbed and step deck trucks, along with stretch versions of each, Osage has the capacity to do the job right. Our team handles every trucking assignment with proper care and appropriate equipment to ensure delivery as scheduled. For your peace of mind, we stay in direct contact with drivers, for precise control not possible through brokerages. When you work with Osage, you can rely on speaking with a real person, 24/7.
Whether our drivers need to take the I-10 in the southern half of the state, the I-20 to the north, the I-40 through Amarillo, or the I-35 towards Oklahoma, they will be able to plan for the absolute best route to deliver your equipment where it needs to be
Learn More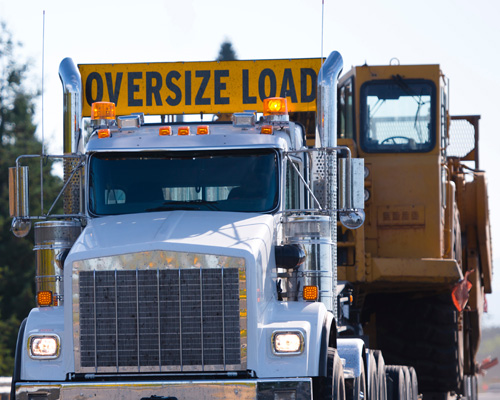 Oversize Loads & Heavy Equipment Transport
Wide loads are a fact of life in Texas trucking, and Osage offers expert oversized load-hauling, all across the state and nation, and throughout Canada. No matter how outsize the load, our team can bring your heaviest and largest pieces of equipment safely through any terrain necessary. We are intimately familiar with the topography of every route, the varying road regulations, and permitting requirements that change from region to region. We ensure that your oversize loads reach your desired destination safely and on time.
Our drivers are prepared to handle your oversize load across the Lonestar State, plotting the best route to ensure that it is safely and securely transported, and do not get stuck on any rural routes throughout the Great Plains and North Central Plains that other operators might mistakenly find themself on.
Learn MoreVIEW TEXAS'S TRUCK SIZE AND WEIGHT LIMIT LAWS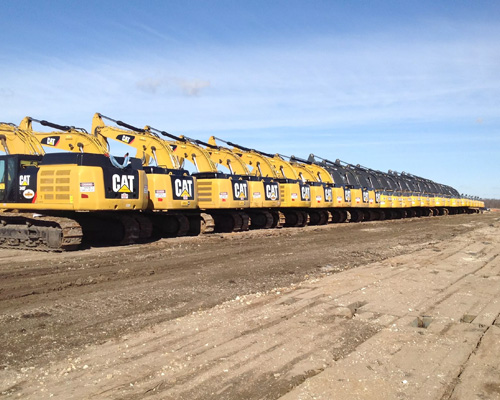 Logistics & Transportation Management
Complex logistics made simple. That's what you need from your trucking and freight service—and Osage is focused on delivering your load without a hitch. Our full-service transport solutions include detailed logistical plans tailored to the needs of your company, road conditions, Texas weather challenges, and more. We get every detail right, using state-of-the-art TMS (transportation management systems) so that any course corrections are transparent and effective.
Utilizing our dedicated transport management system, our drivers are able to know the location of and operational ability of the 104 different weigh stations and scales across the state, and map a route that will allow them to make use of one without major deviations to their overall route.
Learn More
9 Key Ways We Set Ourselves Apart
Wondering what sets Osage apart from the others?! In the transport field, experience matters, as does a strong, customer-satisfaction mindset. At Osage, we excel in these areas, which encompass and inform everything else we do. As full-service logistics and transport agents, we put customer needs first. That's why our Texas customers trust Osage for all types of heavy hauling–and you can, too. Important features of our hauling business and services that make us standout include:
#1 Dedicated Internal Dispatching
Your assigned logistics manager stays on top of all the details related to the location and timing of your heavy equipment transport.
#2 Detailed Tracking
We can easily and precisely track your load by any data point, such as serial, machine, or customer ID numbers.
#3 Secure Integration
Our sophisticated information-sharing setup is designed to readily provide data, reports, invoicing, and more. All the details are at your fingertips, accessed via a user-friendly interface.
#4 Load Board Monitoring
Using the Osage TMS, you can ensure truck drivers are on schedule, and in DOT compliance, for maximum productivity and cost-effectiveness.
#5 Experience
Company owners and staff have over 40 years of boots-on-the-ground experience in all aspects of long-haul trucking and logistics.
#6 Resources
We have the tools and equipment to ensure your heavy machinery is transported safely and on time.
#7 Strong Industry Connections
We maintain valuable relationships with several large carriers that help us ensure your equipment moves problem-free from point A to point B. From John Deere, to Hitachi and Komatsu.
#8 Versatility
We work across a variety of industries that fuel the vibrant Texas economy. We move a single piece of machinery or your whole spread.
#9 Innovation
We use cutting edge technology to keep you informed and streamline the heavy equipment transportation process to support your business growth. We help our independent drivers succeed and exceed your expectations with proprietary transport management systems and communications channels.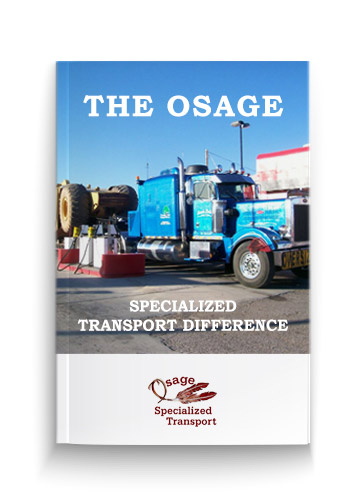 Need Heavy Equipment Hauled? We Have You Covered!
Whether hauling an oversize load, specialized construction equipment, or need a one-way freight, Osage has you covered! Download our brochure to discover the difference working with a company that has 40-plus years in the business can offer to you and your business' bottom line!
More States We Offer Trucking Services In
Have More Questions? Reach Out!
Get our logistic expertise on your side and enjoy trouble-free freight operations in Texas. Contact Osage Specialized Transport online or call us at (303) 326-0374 today!