Founded in 1995
Greatwide Truckload Management Team Member
Top 5 Agent for Greatwide, Greentree Transportation & Midwest
Buchanan Hauling & Rigging Agent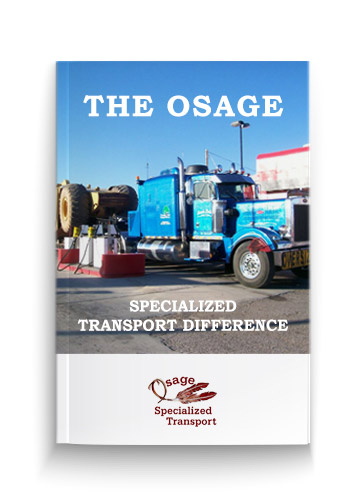 Got Specialized Transportation Needs? We Have Solutions!
Whether hauling an oversize load, specialized construction equipment, or need a one-way freight, Osage has you covered! Download our brochure to discover the difference working with a company that has 40-plus years in the business can offer to you and your business' bottom line!
Who is Osage Specialized Transport?

Osage Specialized Transport is a non-asset based agent-organized trucking company with headquarters in Denver, Colorado, and McKinney, Texas. Founded in 1995 as an independent carrier, we have grown over the years to become a heavy haul and specialty equipment trucking company of choice in the areas that we serve. We work with larger carriers and heavy-equipment-related businesses to provide a wide range of reliable and affordable transportation and logistics solutions.
Today, our services cover all phases of transportation for machinery used in mining, construction, farming, oilfields, and manufacturing. As our company has grown, so has our commitment to providing convenient heavy equipment hauling services.
At Osage, we focus on working for the customers and the drivers. By providing the best transport and logistical solutions to the markets, we believe that this allows us to offer the support and performance that customers and drivers need.
As a small business, we are in a great position to offer customized transport solutions that meet the needs of our clients.
With over 40 years of experience, you can trust us to deliver your cargo anywhere in the U.S and Canada.
---
What Transportation Services Do We Excel In?
Osage is among the top five agents for several large carriers. Our networks give us access to large truck fleets, making it possible for us to deliver versatile services.
Why Choose Osage Specialized Transport?
Reliable heavy hauling services will help you avoid delays and inefficiencies that could cost you money. Here is why you should consider Osage when looking for hauling and logistical services.
Wide Range of Services
Osage provides a wide range of services, making us your go-to heavy haul and specialized trucking company. Whether you need specialized hauling, oversize load, or logistics services, we will help you get your cargo to its destination safely and in good time.
Friendly Staff
As a company that recognizes the value of our customers, we strive to provide excellent customer service. When you work with us, our friendly and helpful staff will work hard to ensure you enjoy reliable, convenient, and affordable transport services. We also have live phone support 24 hours a day to answer your questions and address your concerns.
Extensive Industry Experience
Transporting heavy equipment and machinery safely requires skills and experience. As a company, we have over 40 years of experience in this industry, a factor that enables us to provide seamless freight services