INDIANA TRUCKING COMPANY
Specialized Equipment & Oversized Load Hauling
Have product, goods, or equipment you need moved to or from Indiana? If so, call (303) 326-0374 or use the form to contact Osage Specialized Transport today for an estimate!
Founded in 1995
Greatwide Truckload Management Team Member
Top 5 Agent for Greatwide, Greentree Transportation & Midwest
Buchanan Hauling & Rigging Agent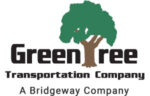 Location Contact Form
"*" indicates required fields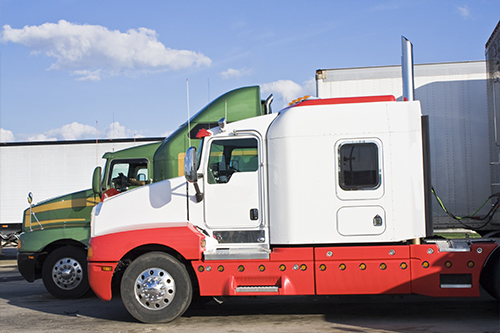 With headquarters in Denver, Colorado, and McKinney, Texas, Osage Specialized Transport works with several large carriers to provide a wide range of hauling and transport services. From our humble beginnings in 1995, our company has grown to become one of the most preferred agents for major carriers.
Today, our services are available throughout the U.S and Canada, allowing customers in different areas to move their loads safely and conveniently. These services are also available to clients in different industries, including farming, construction, mining, manufacturing, and oilfields.
As we continue to grow, we remain committed to offering the best transportation and logistical solutions to the markets. Over the years that we have been in business, we have always worked for the customers and the drivers.
We communicate with drivers and provide them with the support they need to deliver exceptional services. This approach has enabled us to be a leading heavy haul and specialized equipment trucking company in the region.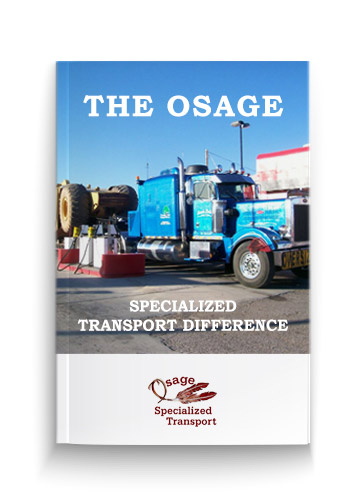 NEED HEAVY EQUIPMENT HAULED? WE HAVE YOU COVERED!
Whether hauling an oversize load, specialized construction equipment, or need a one-way freight, Osage has you covered! Download our brochure to discover the difference working with a company that has 40-plus years in the business can offer to you and your business' bottom line!
What transportation services do we excel in?
With more than 40 years of experience in this industry, we understand the needs of the markets that we serve. Here are some of the services that we excel in.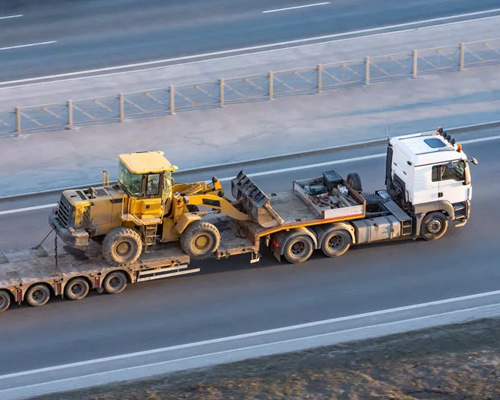 SPECIALIZED TRANSPORT & HAULING SERVICES
There is a lot that goes into providing efficient specialized hauling transportion services. We do the heavy lifting for our customers by providing the best equipment for transportation and using advanced communication tools to ensure quick and affordable services. To help you succeed in today's competitive market, our services include equipment tracking, storage, and customer support throughout all the phases of transportation. We also offer permit service and on and off-road service for different heavy equipment and machinery.
We make use of the best drivers in the area, who know the routes throughout the state of Indiana well. So whether they need to travel west on the I-70 through Indianapolis, or north on the I-65 towards Chicago and Michigan City, they will be extremely familiar with the routes, providing prompt and courteous service.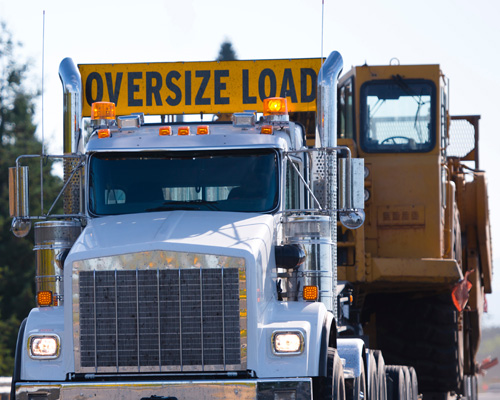 OVERSIZE LOADS & HEAVY EQUIPMENT TRANSPORT
There are times that our customers will want oversize loads and vehicles moved in a safe and timely manner. Such clients will want the loads to be transported in a manner that protects their assets from damage and is compliant with the applicable laws. Our experienced heavy equipment movers will transport your assets to any location in the United States and Canada, making sure that the equipment arrives safely and in good time. This way, you will not experience delays in terms of your business activities.
Our drivers are more than experienced in the needs of oversize hauling, and will be able to select the best route to transport your shipment safely. Whether that means navigating through the Hoosier National Forest, or icy and windy conditions up near Lake Michigan, they have the knowledge necessary to get your cargo where it needs to be promptly, and without incident.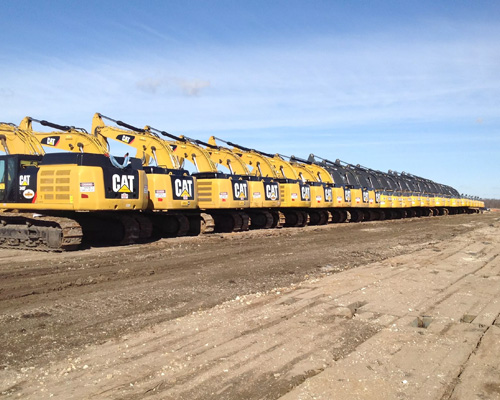 LOGISTICS & TRANSPORTATION MANAGEMENT
We strive to provide all our clients with a great experience by tracking all cargo and coordinating logistical needs. By assigning an internal dispatch and logistics agent and tracking freight, we can provide customers with reliable information while the cargo is on transit. Our user-friendly transportation management systems are designed to give you instant insights and help our drivers operate efficiently.
Our dedicated logistics system will inform our fleet of drivers of the optimal driving routes due to current road conditions and closures, and allow them to plot a route that will then be updated in our system so we can provide updated reports to you of their progress. This system will also allow them to see the location, and operating status, of the 10 weigh stations and truck scales located throughout the state.
WHY CHOOSE OSAGE SPECIALIZED TRANSPORT?
Since Osage was started in 1995, we have strived to be a market leader in hauling and freight transport services. Here is why you should work with us.
CONNECTIONS WITH LARGE CARRIERS
Osage has established connections with several large carriers, which gives us access to a large fleet of trucks, allowing us to handle any job. With these relationships and vast resources, we can cater to the needs of several clients at once.
BROAD RANGE OF SERVICES
We are committed to providing customers with the convenience they need to remain competitive in their markets. Essentially, we transport different types of equipment and machinery, including specialized freight and oversize cargo. We also work with clients in different industries.
TRANSPARENCY
Osage is a transparent company that provides customers with up-to-date information about their freight. Our services are competitively priced, and customers will not incur any hidden charges.
EXPERIENCED AND DEDICATED STAFF
You can trust us to get your assets to the desired destination, both safely and intact. Our dedicated and experienced employees have deep knowledge of the industry and understand what it takes to deliver efficient transportation and logistics services.
MORE STATES WE OFFER TRUCKING SERVICES IN