---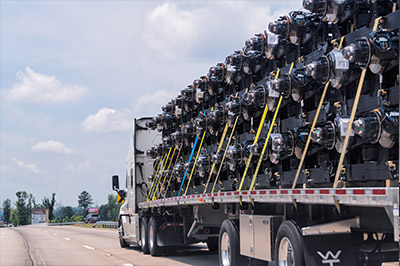 Who is Osage Specialized Transport?
Founded in 1995, Osage Specialized Transportis an industry leader in heavy hauling services. We are part of the nationwide Greatwide Truckload Management team as an agent for Dallas Mavis Specialized Carriers and Buchanan Hauling and Rigging, which have represented industry best standards for decades.
We maintain our own internal dispatch program which enables us to maintain records on every load we haul. For you, that means end to end accountability and recount-ability. For the industry, it means raising the bar to a higher level in terms of dependability and customer service.
With a focus on the pipeline industry and our second to none driver support system, we maintain a fleet of 50+ trucks that is constantly growing to meet the demands of the pipeline business. Our robust electronic driver support system makes documentation and payment delays a thing of the past. As our customer, you can take comfort knowing that the drivers who serve your delivery needs are well taken care of and loyal to us and to you.
Our Company Values
Demonstrating care and respect for our customers, customer representatives, drivers, partners, and employees.
Commitment to providing excellent support and performance through best-in-class transport and logistical solutions to markets, customers, and drivers.
Maintaining an experienced and professional team
Placing our customers and drivers first, always.
---
What Transportation Services Do We Excel In?
The word "Specialized" in our name is not just there for effect. Our teams are dedicated to maintaining true industry-unique specialization in three key areas. They are:
Why Choose Osage Specialized Transport?
We have always worked with the philosophy, "we work for two entities; the customers and the drivers" and they have maintained a very pro-active relationship with both.
We have maintained the same ownership since inception as a 50/50 partnership with Alvin Chowning and Gineva McKinney, who have over 75 years of combined experience in transportation, driving, operations, and safety
We strive to be involved on the ground level of all processes, such as helping on job sites with loading and unloading, as well as taking care of the required proof of delivery paperwork that is needed for every load.
Our fleet of drivers is familiar with the operation of the equipment and commodities the company hauls. There is always someone available to help field questions, get answers, and take care of the details.
Our leadership spends time on the job sites helping customers and the drivers, while the home team maintains the office and all the background work that keeps the business running.
We maintain our own internal dispatch program which permits us to keep records and documents on every load we move. We can track every machine we move, every time we move it.
We maintain a fleet that runs nationwide, allowing our team to get drivers on-site and move equipment quickly and reliably.