Have product, goods, or equipment you need moved to or from Kansas? If so, call
(303) 326-0374
or use the form to contact Osage Specialized Transport today for an estimate!
Founded in 1995
Greatwide Truckload Management Team Member
Top 5 Agent for Greatwide, Greentree Transportation & Midwest

---
When you need reliable and timely transportation of heavy equipment or industrial machinery anywhere in Kansas, trust a company with experience and dedication. Osage Specialized Transport smoothly and expertly hauls your machinery, so it's there when you need it–transporting to, from, or within Kansas.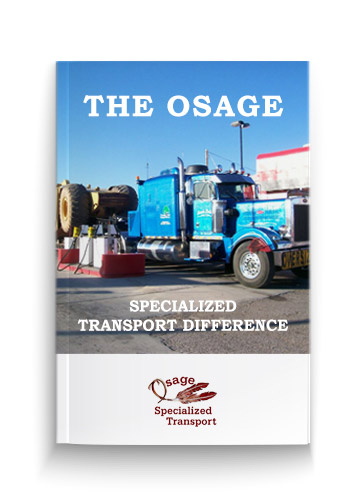 Need Heavy Equipment Hauled? We Have You Covered!
Whether hauling an oversize load, specialized construction equipment, or need a one-way freight, Osage has you covered! Download our brochure to discover the difference working with a company that has 40-plus years in the business can offer to you and your business' bottom line!
Who is Osage Specialized Transport?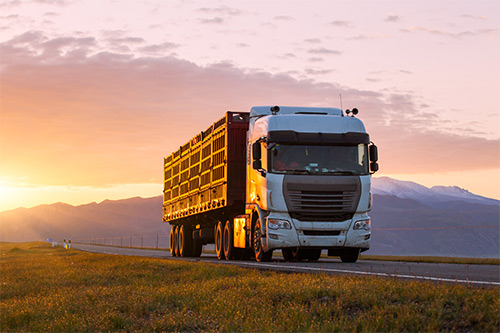 Originally formed in 1995 as the Independent Carrier company Native Sons Transportation, we quickly saw the growing need for an agent-organized trucking company, and in 2001 restructured to become Osage Specialized Transport. This allows us to work with many of the nations' largest carriers that currently employ owner/ operators in the trucking industry. Working from the professional philosophy that "we work for two entities: the customers and the drivers," we can be sure that we are continuing to provide superior customer service, as well as taking care of the drivers we employ.
Over time, our company history has taken us from independent carrier to agent for the biggest names in the trucking business. Soon after the turn of the century (in 2001, to be exact), we transformed into an agent-organized trucking firm, working closely with bigger carriers that employ owner-operators. Our company's two principals have a total of 75 years in the industry, including long-distance transportation, trucking operations, and truck driving.
We Cater to a Wide Variety of Clientele
Headquartered in Colorado, Osage employs a fleet of drivers, allowing us to provide our services nationwide, including throughout the state of Kansas. Utilizing our own internal dispatching program, we make it easy for our clients to stay informed on the status of their shipments, as well as quickly access the records and documentation for each and every load.
Areas We Specialize In
Machine tools
Construction equipment
Farm machinery
Factory components
Industrial manufacturing devices
Mining Equipment
Industries We Serve
Coal mining
Food processing
Dairy farming
Oil and gas pipelines
Livestock/cattle management
Local agriculture
---
What Transportation Services Do We Excel In?
Since our inception, Osage has hauled a variety of heavy equipment loads across the nation, and throughout Kansas. Our qualified and prepared drivers are well-equipped to deal with the driving conditions over the entire state of Kansas, out on the open roads of the plains and within congested city routes. Whether you need heavy machinery shipped for your agricultural needs, or require construction materials or equipment for new works in the Air Capital of the World, our fleet is ready to meet your transportation needs. With well trained staff and a dedicated internal dispatch system at our disposal, you can remain confident that we will get your load its destination quickly and safely.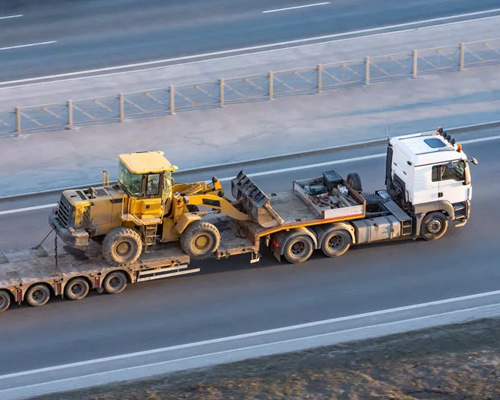 Specialized Transport & Hauling Services
Utilizing our established relationships with large carriers, Osage Specialized Transport is able to provide a range of special-use hauling equipment to meet your shipping needs. If your Kansas hauling job will require a flatbed or step-deck trailer, or the stretch version of either, we have the equipment and staff to get the job done right. Our professional team handles every assignment that comes through with the attention to detail, and appropriate tools, to ensure that you can remain confident that delivery will be accomplished as scheduled. Our dedicated dispatch program allows us to stay in contact with your driver throughout, giving you a level of connection and customer service not available through a traditional brokerage company.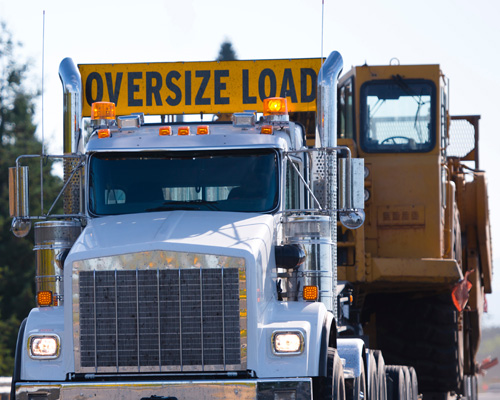 Oversize Loads & Heavy Equipment Transport
Wide loads are a common sight throughout Kansas, and Osage is here to provide you with our expertise in the difficult field of Oversize Load and Heavy Equipment Transport. Regardless of size, our team is prepared to safely transport your largest and heaviest machinery throughout the United States and Canada. Utilizing our knowledge of appropriate routes, and restrictions placed in each region on type of load, our team will make sure that your shipment is delivered as safely and quickly as possible.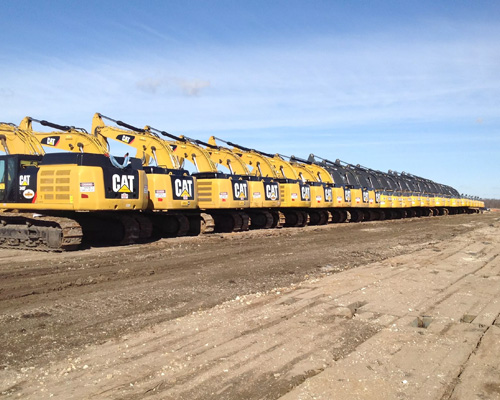 Logistics & Transportation Management
Our highly advanced logistics and transportation management system allows us to accurately report to each client the status and location of their load. Every client that works with us is provided with a dedicated dispatcher and logistics agent, meaning that you will have not only up-to-the-minute information on load status, but also the ability to coordinate with us to adapt to any changing circumstances as they arise.
Our TMS also allows for user-friendly integration, utilizing an open-API format to provide you with synchronized information and instant insight into your freight transportation in Kansas
More States We Offer Trucking Services In
Why Partner With Osage?
Osage Specialized Transport is the nation's foremost choice for all oversized and heavy equipment transportation. Our established history of transporting goods and equipment means that you can trust us to get your load to its destination quickly and safely. Our dedicated fleet of drivers are motivated to provide you the efficient and excellent customer service that you deserve. We feel, and have always felt, that our customers and our drivers are the two greatest assets that we have as a company, so it is vital that we continue to cultivate and maintain the relationships that we have with both.
The advanced and dedicated transportation management system that we utilize means that you will always have access to the status of your shipment, as well as all the documentation and records that we have in our system. Working with your own dedicated dispatcher and logistics agent ensures that same superior level of customer service that we pride ourselves on. Whether you require pick up or delivery in Kansas, or throughout the rest of the United States, Osage is prepared to provide you with up-to-the-minute tracking information, ensuring that your load is delivered swiftly and safely.
Our structure as a non-asset based agent allows us to utilize the best owner/operators available, meaning that regardless of the size, distance, or nature of your shipping needs, you will always receive the absolute best in delivery and customer service, every time.
Get our logistic expertise on your side and enjoy trouble-free freight operations in Kansas. Contact Osage Specialized Transport online or call us at (303) 326-0374 today!